Poker Lessons with a Sex God!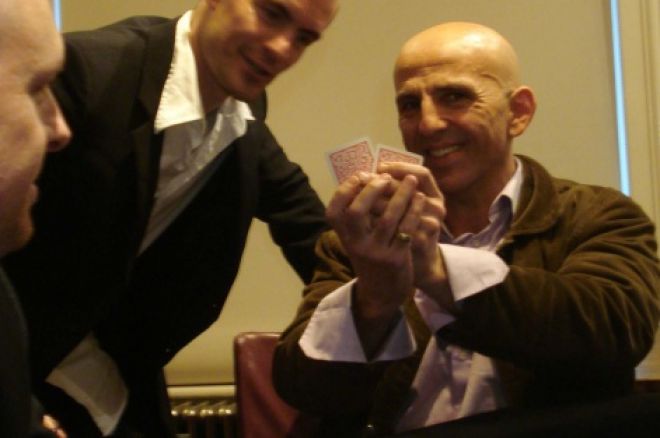 February is here, the dreadful tastes of tax returns and stock market crashes have finally passed and we are ready to get back into the beautiful showbiz world of poker.
Poker's most eligible bachelor, 'Matt Dale' awakened me with an offer of a seat for a 'Fish' at his Poker.co.uk Christmas Poker Party held last week. Matt kindly sponsored the Catman and Catgirl dastardly duo into his 50 squidder, held in the delights of The Croft Pub in Bristol.
Grass roots poker is what poker will always be about and there is nothing like a fun game, mildly inebriated, in a non-smoky pub. Mad Marty was the tournament director, Kathryn Hartree and Jen Mason were there and even Nick Loader (director of Late Night Poker), who was probably there looking for new talent.
The sickly insane and loveable Matt Dale was also promoting his Mothball 3000 rally, a poker alternative to the Gumball Rally. There is room for another 64 entries if you are interested. Rule one: The 'Mothball chariot' must not cost more than £250. This will be checked by other Mothballers using the power of guessing. The poker game was hard and fast and captured the spirit and 'fun' factor that is so often laid aside in our game.
As a Poker Agent, philosopher and writer, as in the infamous 'Dragons Den,' I am always receiving offers that can either be easily turned down or on occasion may warrant further investigation. The first offer through the email was to teach poker to a group of bankers, all intent on going to Vegas, to play in The WSOP HORSE. This was Poker School to the extreme, an offer that deemed my full attention, which in turn I attacked as a vulture would a rotting carcass.
The request was inspired after a couple of the bankers had watched the 24th re-run of Sky One's 'Naked in Westminster', a TV series about the opening of my old strip club. The bankers, who have all turned into poker fanatics, then read an article I wrote about The WSOPE HORSE, an event I donked my way through. They put two and two together and came up with six.
Catman would be the perfect teacher and the man to arrange a jaunt to Vegas and provide plenty of fun to a group of lunatics with more money to spend than sense. The game is on; I went along to their private game, held in a suite at Claridges no less and found to my delight that these infidels are really serious. After three hours of playing poker with their money, I realised poker gods do exist, and it looks like my dream of playing the $50,000 HORSE are now to become a reality.
A bit like employing Poggenpohl to install your kitchen, you have got to pay for the name. It might not be the best, but it looks good. Which leads me on to my next showbiz poker lesson and event, taught by Poker's answer to Britney Spears, without the drugs of course. Poker Superstar and Sex God, Mr Gus Hansen, has put his name to a super mobile phone game called 'Million dollar Poker'.
An invitation arrived to come meet 'Gus Hansen' at the launch of 'GameLoft - Million Dollar Poker Game'. The press release included the opportunity to access Gus for a 7-8 minute interview, an invitation that fitted into the category of offer I needed to consider carefully or dump immediately.
I had spent some considerable time interviewing the Sex and Poker God, where he all but shot me in the head, his lack of verbal control leading to comments with regard to his desire to sleep with the Catgirl, Pussy and other sensational remarks. I had to think hard, but this was easy to overcome, as any poker journalist will tell you - the offer a free poker game will guarantee their attendance.
The Catgirl politely declined the offer to attend, "Catman, the only time, I want to be near Gus Hansen is at the Poker Table, face him on your own and don't kill him." So the challenge was on, it was the right time to get back in and ride the HORSE, I mean thumping Gus would not release the Demons; I needed to love the man again.
Many big names have put their name to Mobile Phone Poker Games, so it was nice to see Europe's biggest poker brand icon, Gus Hansen, put his face to a product. My dream is to find and promote a player like Gus, someone who can lead the way for the rest of European poker players into the big time – oh, and make shed loads of cash on the way.
The 'Million Dollar Poker' game doesn't allow for social interaction but when you are playing it seated on the throne , who gives a damn? It is totally addictive, doesn't need a big investment or any phone memory and, above all, the 'artificial intelligence' was developed with a lot of time and input from Gus. With his gob put aside, you can only admire the Hansen as a poker player. He has won over $5million, probably been through another $20million and, if you could adopt his style of play successfully, you too might achieve such distinction.
'Million Dollar Poker' is fun and simple to play, it will certainly improve any player's game or make commuting a pleasurable experience. It offers Texas NL Hold 'em in three modes. Career mode is the most comprehensive of the three. In it, you play as a character starting out with $1,500 who's making their way around the world map playing public and private tournaments. Each player you're up against has a distinct playing style and these are revealed in short bios at the start of each tournament. It has three difficulty levels, and raising will often face a re-raise from a player, just like Gus, who may well have absolutely nothing. The graphics are good, with players turning grey when they fold. Exhibition mode lets you alter difficulty settings and stakes for short customised games and the Career mode records stats and hands played for more experienced players.
So, now at the Century Club in Soho, I joined the plethora of journalists, programmers and whomevers to celebrate the launch of 'Million Dollar Poker Game'. Or, in reality, a group of journalists who had come to battle against Mr Gus Hansen to win a weekend in Las Vegas and listen to Gus's speech about the product. After guzzling down plenty of diet coke and enough Sushi for all the brave pilots at Pearl Harbour, I was ready for battle. The first round saw 50 players battle through a Turbo in which the top 9 would play Gus. The good news was Gus was on hand to give tips. I yelled him over, squeezed his hand gently without breaking a single bone, and made peace with my inner soul. I loved him again.
"Gus, how should I play this hand?" said the student Catman. "Don't play that hand - it is ****!" said the master. It reminded me very much of the learnings of Steve Martin in the classic film 'The Jerk'.
Now, it may seem a simple lesson, but in reality, poker is all about not playing Ace Garbage or, as Kenny Rogers says, 'Knowing when to fold'. So, Gus's advice was indeed real. I followed it to a tee and made the final. By this time, I had managed to place all emotions aside. As you know, if you ever gun for a player at a poker table, it is usually he who blows you out of the game. I quickly doubled up and used all my ammo to raise and re-raise Gus with every hand I had the chance. God, I was enjoying my day out of the office!
But, alas, the master was to be unmercifully crushed by a charming French lady who masterfully slow-played her King 8, betting her two pair, after she caught the King on the Turn.
Gus donated his stack in a weak moment with a paltry pair of Aces in the hole. Of course, Gus might not have been playing his best that day, but the good news is he has assisted in programming the game to a much higher level. Everyone breathed a sigh of relief as Gus left. Let's face it, jokes and anger aside, the man is a master.
I kept listening to those words, "Don't play s***!", and managed to win the event and a weekend to Las Vegas. Unfortunately, my victory was by way of a chip count over one of the nicest men in poker, 'The World Strip Poker Champion', John Young.
The game is wicked, I got it for free but you can get Gameloft's 'Million Dollar Poker' on your phone for about £3 by going to www.gameloft.com (PS, this is not an ad, but it is well worth 3 quid).
For me, the year has only just begun. Next week, I will attend the Party Poker Premier League Party. Shame I don't think they are having a game but I will do my best to give you the Showbiz View of what will be in store for this $60,000 Buy-In event.
Catman is Europe's Leading Poker Agent