Vegas Storms Premier League Launch Party!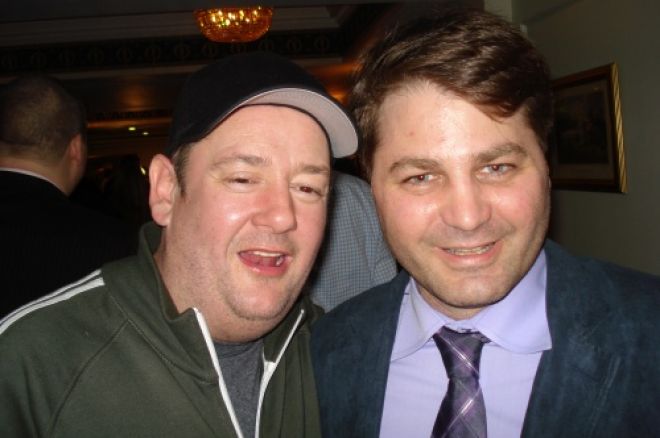 Was it good timing or the work of PR mastermind 'The Lush' to present the launch party for the PartyPoker.com Premier League event to coincide with The Orange British Academy Film Awards, the most prestigious event in the British film calendar?
I will be off to the Baftas too, thanks to my companion for the PartyPoker Party, a top make-up artist at the Royal Opera House (home of the Baftas) - a very nice contra ticket deal indeed. I had built up the Premier League Launch Party a little to her and, apart from the lack of caviar and showgirls, the event was a poker groupie's dream. The gathering for this year's Premier League launch party was an A-List of poker stars, all better actors than their Bafta counterparts. This year includes the entrance of new arrivals to the League including Marcel Luske, Alexander Kravchenko and the super cool legend, Annie Duke.
PartyPoker.com had opened up the doors to this little shindig by offering prize invites to various poker forums, allowing those that hadn't rubbed shoulders with some of poker's biggest names to feel the force in a social surrounding.
As I entered The Montague on the Gardens Hotel, something tipped me off that this was going to be a special little party. The smartly suited concierge noticed my arrival and blurted the words: "Mushrooms this way". He smiled and I wandered closer. "My name is Catman". He smiled again and indicated "Mushrooms this way". "How much will that be?" I politely enquired. I had never tried a magic mushroom and the thought of a psychedelic Phil Hellmuth was appealing to me. Alas, the concierge apologised whilst clearing his throat. "I meant Matchroom, this way."
The room was packed with a sea of faces from poker's glitterati. PartyPoker.com PR guru, Warren Lush, along with Matchroom have deservedly placed a stranglehold domination on terrestrial TV. "Catman, I will be with you in a minute, I am just having a drink with Johnny Vegas" he exclaimed. "Is he playing the Premier League? This is fantastic news" I replied to Lush's backside as he strolled off. For so long, I have been thinking what celebrity could play poker and give the likes of Tony G and Phil Hellmuth a total mind "feck".
Johnny Vegas is Britain's answer to Britney Spears, but of course ten times funnier and not yet in the nut house (said with sympathy). No-one could be a more credible celebrity guest at this or any poker event. 'Mad' Marty Smith, tournament director for most televised poker events, told me how the Vegas would not leave a poker table after being knocked out of a celebrity poker TV event as well as almost turning the table upside down in a rage. As a man who has spent half his life at celeb events, Vegas is simply the best party guest, totally off his nut with booze. Vegas tore the joint apart with his cabaret of fast talking wit. I want to sponsor that man – tomorrow!
Warren Lush returned – Tell me what the public should know, Warren!
"No, Catman, Vegas is not playing. We see The Premier League as a premiere event in poker. Wherever I go around the world, the top players are asking me about it. The buy-in has increased from $20,000 to $60,000 and we have added $280,000 to bring it up to a cool million, not bad for twelve players."
What can we expect this year? "Juha Helppi, Roland and Phil are already up for it, the banter has started in The European Open we filmed last week. This is a massive event for Juha, he so badly wants to retain his title. Kravchenko the Russian is here, Marcel Luske who is super aggressive is playing. Will his style work? It didn't for Roland last year."
Apart from Warren, I bumped into PartyGaming's Senior Copy Editor, the lovely Simon Young and his wife Sarah. Simon had spent most of the previous year playing the circuit as a guest of another firm, but now he has to work. Is he enjoying work, Sarah? "No, he wants to play poker!" we laughed. What else did I expect? We all want to play and another who wanted to play this up-and-coming event was the legend Annie Duke. Annie is a mother of four, who has won over $3.4 million and also courts an amazing tattoo that I managed to get a close up of when she came 21st in the WSOPE. If you want to read an interesting blog, read Annie's. She is even more inspirational in that she is one of the few players to have given Phil Hellmuth, her UltimateBet stable mate, a serious thrashing at the poker table. She learnt a bit about poker from her bro, Howard Lederer, and in 2004 she beat ten of the best to win $2,000,000 in the Tournament of Champions at The WSOP.
"Catman, I knocked my brother out 3rd in the Tournament of Champions and Phil out in 2nd, I cried on TV and crushed Phil. I haven't got my eye on anyone here, there are no fishes and if I thought there was I wouldn't say; they are all excellent. Eddie Hearn invited me and I am lucky enough that my ex-husband can look after my children so I have come here to enjoy the event."
Annie is in training for the Rock'n'Roll Marathon and her training run takes her past Britney Spears' house. "I ran 24 miles in 3 hours 40 minutes, went twice past Britney's house which had 24 paparazzi stalking her."
"Have you played her or any other superstars at poker?" I enquired. "I am sure she would be bad. I coached Ben Affleck, Matt Damon and played Charles Barkley (the monster of basketball)."
The tattoo?: "It's a 1600 Botanical Drawing 'Say yes when nobody asked'. It is what I teach my kids, it means do the right thing because it's right to do, not because you are asked."
Annie Duke is very special, she has a wonderful life philosophy, is a major charity supporter, charming and beautiful. Annie is a contender with pedigree and I will definitely put a fiver on her to win.
Phil Hellmust, as I called him, was busy DJ'ing, blasting his relaxing blend of hip hop from his mini i-pod, when I interrupted him for a quick one question.
"What have you learned since the last Premier League a year ago, master Phil?":
"I have learned to count my blessings more often. I meditated 2 days ago, counting my fortune, my fans, and one million users of my cell phone game, Bamm Bamm, houses, cars. Thankful, it changed my mood to receptive. I think of these blessings and I receive more good blessings. I am in a good mood, how lucky I am."
"Who are your fish at this event, Phil?":
"Too negative, I never say players are good or bad, they hit harder and it's negative. I won't play any different, just show up."
Forget the Oscars, Phil is a legend, you will never know what to expect, but entertainment is guaranteed, you can only love this man.
The party roared on, I scoffed about ten raw tuna canapés and then the mini hamburgers, which were in fact Mini Fillet steaks. I was driving so had only one bottle of beer. Of course, the rest of the room were enjoying a right old knees-up. Roland De Wolfe cruised by and we chatted about his dog chewing up his passport and off he wandered.
Next up was 'The DevilFish', a man so often misconstrued. I know the Fish more than most, inside he has a heart of gold and is in fact a face that will never go away, for his character is mighty and this is one fish you should never under-estimate. "She's beautiful" as he cast his eyes over my companion; subtle never but charming always. How will he play the event this year?:
"Play it as it comes, I might be a bit quieter". Will he wind the other players up?: "You know me Catman!" Yeah baby, long live the Fish.
I stood across the room and pointed at Tony G and started to explain the G Man phenomenon to my bemused companion, as Tony kindly wandered over. Tony G has been playing the world's biggest cash game in Russia and winning. This was displayed by his beaming smile.
"Tony, you are the number one favourite at PartyBets, whom did you pay off?" I enquired:
"I think I might just be the people's choice. I am going to have fun, I wanna win. My tactics will only come out when I sit at the table and I will use it to my advantage then. I am here for fun, my cash game has left less time for tournaments."
Tony is an enigma, A Venomous Viper who can strike and win any event at any time. Tony is a "tour de force'' in poker, his present good mood will surely strengthen his position as favourite. Let us also pray his banter will appear at full throttle, bring it on G Man.
So let's think about it, TV Poker can get a little dull, but Phil, The Fish and The G Man might just entice me to pop along to the studio and watch the whole thing live. This is going to be a motorway pile up with Roland De Wolfe leading the firemen. Please no one gets hurt, just an explosion of excitement! Let us also never forget the great Jesse May on the mike.
I stand chatting with various forum faces, getting names wrong as always. Rory Liffey and I chat about cash legends and I learn that Fred Carle was one of the most respected if not best cash player at The Vic. Matt Dale arrived with his date and her chaperone. Ian Frazer and a host of other players provided a list too long to mention here. At around twelve, The Devilfish and Tony G kindly invited me to jump in the limo to Modiva, a club that our right royal princes love. After 20 years of clubbing it, I declined and hit China Town for a duck on lice to celebrate The Chinese New Year, alas two days late.
I am unbiased, unless of course I am playing in a sponsors logo, but I have got to bow to this one. High Stakes Poker is one of the only Poker TV events that gets me wired, however this Premier League malarkey is developing into one of the best Poker TV events worldwide (naturally excluding any events featuring up-and-coming legend 'The Catgirl' whom I happen to manage!).
Now, if only Johnny Vegas can get a late seat.
Catman is Europe's Leading Poker Agent