100k Main Event Casino London SAS Radisson Grand Hotel, Sofia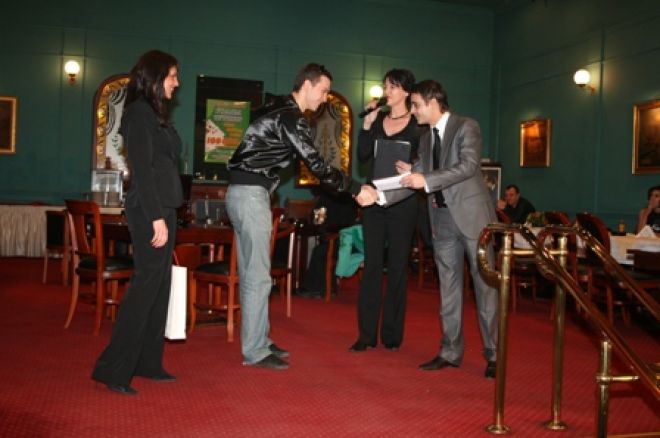 $100,000k not quite right, but not bad at all! 100,000 BGN (~ $75,000k) NH Texas Hold'em Main Event was held at Casino London in Radisson SAS Grand Hotel in Sofia, Bulgaria on Saturday, Jan 25. It was local player Kiril Marinovski, who was victorious, grabbing the title and BGN 50k (~$38k) for the first place.
Day 1 saw 153 entrants hitting the felt in two groups of 77 and 76 players respectively, with the first hand dealt around 6PM. By 10,30PM only 39 of the initial 77 survived and it was almost half an hour later when the second group of 76 joined the field for the second session of the play, with 34 players later moving to Day 2. Play was fast and aggressive in the beginning, with the blinds starting at 10/20 and 30 min levels.
With 11 players per table in both of the sessions, there was plenty of loose play and many went to the rail to watch. The field was packed with Bulgarian players, and only 1 place left to the limit of 154.
Joining the field were big Bulgarian names as Atanas 'naskoxx' Georgiev and Yavor 'Tilt@JeKi' Тutev (Jeki). Nasko's run on the title felt short as he went to the rail in Day 2, running pocket Jacks into set of sixes, but it was Jeki who finished as a runner-up in the event, collecting BGN 23,256 for his efforts.
Day 2 started event faster and it took only a couple of hours for both of the groups to narrow down to the last 33 to make a run at the final table. 39 started at 3PM, leaving only 17 of them to merge with those 16, left from second group's initial 34. The last 33 sat down to play at 6PM, all looking at the final table and the coveted 50k prize for the first place.
After almost four and a half more hours of play, final 10 players secured their places for the Sunday's final table and the top ten chip stacks looked like this at the end of Day 2.
1 Omeed Farzid - 175 500
2 Vassil Tuchkov - 98 000
3 Yavor Tutev - 71 000
4 Kiril Marinovski - 54 000
5 Angel Ivanov - 50 000
6 Petko Marinov - 44 000
7 Ivan Stoychev - 41 000
8 Ilian Marinov - 37 000
9 Emil Tzvetanov - 22 500
10 Robert Vukaylo - 20 000
Tournament staff decided to put the blinds back to 1000/2000 (the play had to start with the next level of 2500/5000) giving the short stacks a decent chance at the start of the final table for a competitive and exciting play down to the title. It was an hour later when the first casualty of the final table went to the rail. Heads-up play started with 350k in chips for Kiril Marinovski and 250k for Yavor Tutev. In the final hand, with 480k to 120k, Кiril raised on the button to 38к holding А-J, Yavor went all-in over the top with Q-10s and Kiril called. Flop was 2-2-8, bringing Yavor a flush draw. Turn was blank and when Ace hit on the river, Kiril won the pot, the title and BGN 40,000 + 10,000 in chips for the first place. Yavor Tutev was the runner-up, taking home BGN 23,256 for his effort with the final table results and payouts as follows (all prizes in BGN):
1 Kiril Marinovski – BGN 40,000 + 10,000 chips
2 Yavor Tutev – 23,256
3 Ivan Stoychev – 12,791
4 Omeed Farzid – 9,302
5 Vassil Tutchkov – 7,558
6 Robert Vukaylo – 5,814
7 Ilian Iordanov – 4,651
8 Petko Marinov – 3,837
9 Emil Tzvetanov– 3,372
10 Angel Ivanov – 2,907
For those finished 15th to 11th things looked like that:
11 Ludmila Angelova – 1512
12 Holy Ugrinovski – 1395
13 Viktor Popov – 1279
14 Vassil Radev – 1279
15 Vladimir Milanov – 1279
There were also some special prices from the casino:
Youngest Player – Peter Russev – 1000
Most Eccentric Look – Simeon Tzonev – 500
First Quads in the Tourney – Vladimir Pavlov – 500
It was a very successful and exciting event and there was a great crowd inside the casino to watch the play on big TV screens. There's more to come in Bulgaria so stay tuned for the upcoming international poker events in Casino London and around the country.