Andy Black Triumphs at PartyPoker Premier League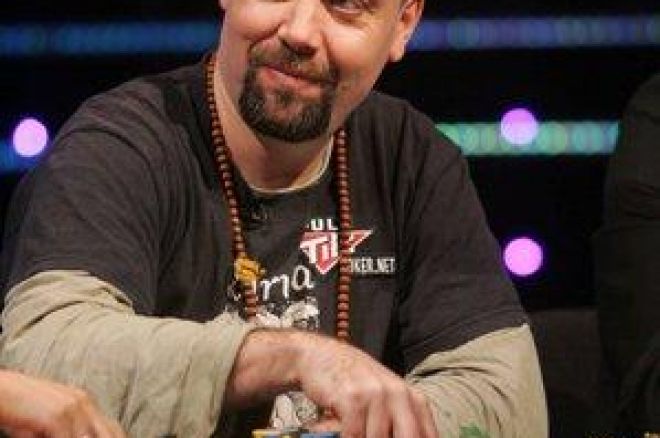 After twenty years of trying, Ireland's Andy Black has finally taken down a major title by winning the 2008 Party Poker Premier League and the $250,000 first prize. The 42 year-old from Dublin, known on the circuit as the 'Mad Monk,' burst into tears after defeating England's Roland De Wolfe heads-up in the event that sees 12 of the world's top professionals face off against each other in a unique league format.
After clinching the title, Black said "it is a fantastic feeling. I've been in so many strong positions before and not ended up winning that sometimes I doubted whether I could actually get the first place. Everybody was waiting for me to blow up. I see this as a turning point – perhaps now I can convert my dominant positions in tournaments into victories."
Andy Black has earned millions of dollars over the years on the circuit but until this week a major win has always eluded him. His most notable cash finish was for $1.75 million for 5th place in the WSOP Main Event in 2005, after qualifying online. At the 2007 WSOP Main Event and 2008 Aussie Millions Main Event he was the chip leader after day one, only to fall away. He had similar experiences at the EPT in Dublin last year, the 2006 Tournament of Champions at the WSOP, not to forget the 2007 Aussie Millions where he eventually finished third after dominating again. Black famously quit poker between 1998 and 2003 and started practicing Buddhist techniques of meditation and working with the mind which he credits with improving his game. He was particularly pleased to win the Premier League as it involves some of the world's very best professional players.
Roland De Wolfe had a 3:2 chip lead going into the final showdown. The final hand saw Black limp in with pocket kings and De Wolfe check with queen six off suit. The flop came four of hearts, eight of spades and six of hearts and De Wolfe check raised all-in. Black instantly called and De Wolfe was not in good shape. The turn brought an eight of diamonds, meaning that only a six on the river could save Roland. A two of hearts came on the river and Black had finally achieved his longstanding dream. Black picked out a couple of key hands as key turning points: a hand against Juha Helppi in the league stages where his pocket sixes held up against ace jack and his pocket jacks holding up against Marcel Luske on the final table.
Tony G was chip leader going into the final table after finishing top of the league. Second in chips was Black, followed by well thought of Russian player Alexander Kravchenko, Marcel Luske, Roland De Wolfe and then Annie Duke. Play started off at a rapid pace, with aggressive play resulting in big bets and big pots. Annie Duke was first to go after 49 hands. The well backed Kravchenko raised pre-flop with seven eight suited. Duke re-raised all-in with ace jack off suit with a seven on the river giving the Russian two pair and sealing her fate after a pair of queens came on the flop.
Next to go was Luske, whose stack size had fluctuated wildly for a number of levels. The Dutchman went all-in pre-flop with queen eight off suit and was called by De Wolfe with pocket sevens which held up. Kravchenko went out fourth after his pocket queens were busted when Black hit a king on the turn to give him the higher pair. After starting the final table as chip leader, Tony G eventually went out third after he ran into De Wolfe's slow played pocket kings. Tony held nine seven of hearts and moved all-in with an inside straight flush draw after a flop of five of hearts, queen of spades and six of hearts but Roland's pocket kings held up. It was then left to De Wolfe and Black to battle it out heads up for the title.
Each player bought into the Premier League for $60,000, with Party Poker adding $280,000 to make the prize pool a cool $1 million, up from $500,000 last year. Nine of the twelve players from 2007's successful event returned to challenge this year, with the new faces being Marcel Luske, Annie Duke and Alexander Kravchenko. As previously, Phil Hellmuth headed a top class field that included Dave 'The Devilfish' Ulliott, Tony G, Andy Black, Ian Frazer, Roland De Wolfe, Vicky Coren, Juha Helppi and Eddy Scharf. Tony G, Andy Black, Alexander Kravchenko and Marcel Luske automatically made the final for finishing in the first four spots, while Roland De Wolfe and Annie Duke won their way through to the finale after play-off matches.
The final heat of the league stage was extremely exciting. Roland De Wolfe needed just one point to win an automatic place at the final table and consequently played a very conservative style, only to bust out with zero points. This meant that against all odds, Marcel Luske reached the final table. Vicky Coren's chances of making the play-off matches depended on the Devilfish or Helppi not winning, but the Devilfish went on to win, eliminating Coren. The two heads-up matches saw De Wolfe play Scharf for a place in the final and Duke take on the Devilfish. De Wolfe took out Scharf, while Duke won a nail biting duel against the Devilfish.
One of the main talking points of this year's Premier League was the failure of Phil Hellmuth to play any part in the latter stages. Hellmuth finished top of the league table last year and dominated the event by winning four heats. However, this year he finished last with zero points twice and the 11 time WSOP bracelet winner was teased relentlessly all week by his rivals. Hellmuth joined Jesse May in the commentary box for the coverage of the final. The tournament was also not kind to defending champion Juha Helppi, who struggled to get going in a format in which he typically excels. In contrast, Tony G finished bottom of the table in 2007 but in 2008 the favourite to win with the bookies played strongly, winning three heats and topping the league table. The league matches were also great for champion Andy Black, who also notched a hat-trick of victories.
A PartyPoker.com spokesman said: "Andy is a deserved winner, he's finally got the monkey off his back. It would have been a black day if he managed to choke again. Roland De Wolfe's achievement was also significant. He looked down and out in the final league heat but showed true class to finish second. Everybody involved was thrilled with the event; it just continues to get bigger and bigger."
Coverage of the Party Poker Premier League will be first broadcast on Channel 4 in the UK in March and then distributed internationally.
The final prize money for the 2008 Party Poker Premier League was as follows: -

Andy Black (IRE) $316,000
Roland De Wolfe (ENG) $160,000
Tony G (AUS) $136,000
Alexander Kravchenko (RUS) $92,000
Marcel Luske (HOL) $72,000
Annie Duke ( USA ) $58,000
Eddy Scharf (GER) $38,000
Dave "The Devilfish" Ulliott (ENG) $38,000
Vicky Coren (ENG) $34,000
Juha Helppi (FIN) $22,000
Ian Frazer (ENG) $18,000
Phil Hellmuth ( USA ) $16,000
Ed note: Play online at PartyPoker and take advantage of the juicy cash games there