Take Your Marks! For the Titan Poker Rake Race

Barry Carter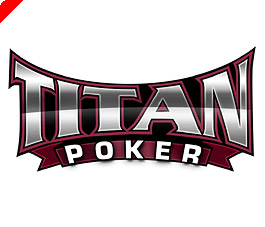 Rake races are becoming really popular right now and our good friends at Titan Poker have got a hell of an offer for all you multi-tabling sickos out there. Starting this week, their Cash Table Leaders promotion promises to reward all your hard earned work at the tables with big money prizes at the end of the month.
Every time you play a hand of poker, a small percentage of the winning pot generates a rake. This amount is always tiny in comparison to the stakes you will be playing but if you are the sort of person that has 4 tables or more loaded up at any one time, you could be generating thousands a month without realizing it. A rake race rewards those players who are generating lots of rake for an online poker room, by giving a fair chunk of it back in the form of prizes.
What separates Titan Poker from a whole host of other rake race promotions, is that it rewards the players that generate the most hands played, rather than the total rake generated. Often rake races favour the higher stakes players who will be paying a larger proportion of rake per hand, but in this race the winner could just as easily be a busy $0.25/$0.50 player than a nosebleed stakes shark.
A total of $100,000 in prize money will be awarded to the highest raking players at Titan Poker with an amazing $7,500 going to the winner. $5000 goes to second and anyone in the top 20 will win at least $1000. The top 200 in total will be rewarded, with at least $100 going to anyone making the cut.
If you are new to Titan Poker, not only can you make the most of this fantastic offer, you can also scoop up an exclusive Pokernews bonus too. On top of the $500 sign up bonus, when you use the code UKPNEWS you will be eligible for another $50 on top of that. So potentially you could get an extra $8050 on top of your winnings just for taking part.