Pioneers of Poker on Balkan – Vedran Tičić – Coloseum Club Sarajevo

Imre Benko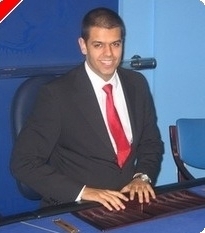 Vedran Tičić was born in Sarajevo, May 8th, 1982. He was in the 4th grade of elementary school when the war broke out in Bosnia and Herzegovina. Due to circumstances he had to stay in Sarajevo throughout the war. When the war ended, he finished schooling and enrolled in Economy faculty. In 2001 he saw an ad in the newspapers about a post in a casino, so he decided to apply. Having passed all the tests and the preparatory course, he got a steady job in what is today known as the Coloseum Club.
At first he worked as a croupier, but two years later he was promoted to table chief. During that period his interest in poker gradually grew. He started watching poker on TV, reading magazines dealing with these topics. Vedran's favorite games are Texas Holdem NL and Omaha PL.
After a while, he became an inspector of the tables in Coloseum Club and with some help from his superiors, he managed to open the first poker room in Bosnia and Herzegovina. Soon he was offered a promotion to the leader of poker tables and poker manager. Vedran gladly accepted it. Currently it is the best poker room in the entire Bosnia and Herzegovina.
In the Coloseum Club poker room there are tournaments at Texas Holdem Poker organised every Sunday. Buy in is 20€ + 5€. There are also tournaments where the buy-in was 300€ . Coloseum Club offers a variety of games. You can entertain yourselves playing Texas Hold'em Poker, Omaha Hold'em Poker, Hit progressive draw poker. The top-class croupiers in Coloseum Casino will gladly teach you any game. Coloseum is the only poker club in Bosnia and Herzegovina which, to the excitement of all visitors and poker lovers, organizes poker events in continuity. THP tournament Championship 2007 ends on January 7th and it started on October 7th, 2007.
Coloseum Club in association with Stella Poker is preparing a big tournament for April 2008. It is going to be a true poker spectacle in Sarajevo and in Bosnia and Herzegovina in general, considering the fact that Poker Europe has confirmed that it will be a European ranking tournament.
Players who are interested will get the opportunity to test their poker skills playing against the best poker players in Europe.
Sarajevo Open
HiT Casino, Coloseum Club & Stellapoker.com
1st Open Championship, Texas Hold'em
Bosnia & Herzegovina
Sarajevo, 8th – 12th April 2008
April 8th, 2008 Tuesday – Holdem NL - Buy-in 100 - Entry fee 10 - rebuy unl. - Add on 1
April 9th 2008 Wednesday – Holdem NL - Buy-in 200 - Entry fee 20 - rebuy 1 - Add on 1
April 10th 2008 Thursday – Holdem NL Freeze out - Buy-in 300 - Entry fee 30 - rebuy 0 - Add on 0
April 11th, 2008 Friday - Holdem NL Freeze out - Buy-in 1000 - Entry fee 100 - rebuy 0 - Add on 0
April 12th, 2008 Saturday – Holdem NL - Buy-in 200 - Entry fee 20 - rebuy 1 - Add on 1
Unfortunately, in Bosnia and Herzegovina dominate prejudices about poker and casino generally. Therefore, Vedran Tičić and the rest who work at the Coloseum Club try to break these prejudices and present poker as an intelligent game based on mental capacities. He reckons that electronic media - the Internet and television were crucial for popularization of poker so far.
As far as poker clubs' boom all over ex-Yugoslavia is concerned, the biggest mistakes are made when it comes to training of the dealers. A lot of people who decide to go for this kind of business do not realise how important it is to have fully trained workers in a casino. According to Vedran, this is the crucial issue in the development of high-quality poker clubs, since a vast number of poker players cannot stand mistakes and unprofessional dealers. Still, he is glad to see a growing number of poker clubs on this territory because it is an important condition for organisation of excellent games and tournaments.
All information about Coloseum Club can be found at http://www.coloseum-club.com
yuPokerNews: Visit Coloseum Club in Sarajevo, we guarantee you a good time!!!