Rake Your Way to the WSOP 2008 with Ladbrokes Poker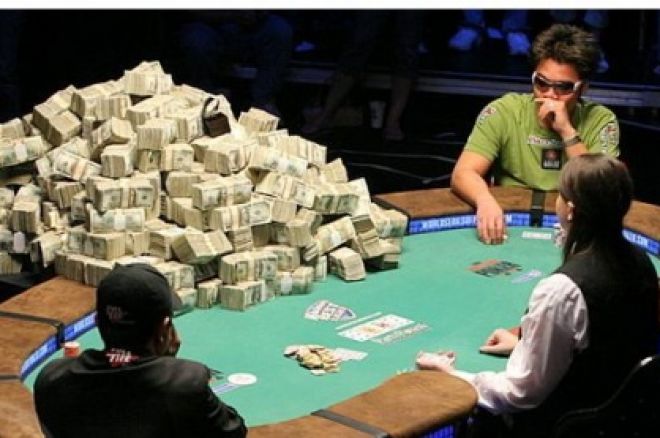 It's around about now that we start thinking about how we are all going to blag our way to the WSOP Main Event this summer. If you look around the online felt right now, satellites are starting to pop up here and there but no clear route to the WSOP as yet. If, however, you are a regular at the cash tables you can start to make your way to the big one without even trying it at Ladbrokes Poker.
This is because 2008 sees the start of their WSOP Nebuchad Rake Race. A rake race is kind of like a league for the most active players on a poker room, the more you play, the more rake you generate and the higher up the league you go. So if you are one of those guys who has 16 tables running at the same time you could find yourself in one of the top spots without even realising it.
There are three cash game levels this applies to, each with a separate leader board:
$0.50/1 NL
$1/2 NL
$2/4 NL
If you make it to the end of the month in the top 20 you will win a prize, the top one being a $14,000 package to the WSOP and several chances to win coaching from Ladbrokes Poker top class cash game player, Jonas "Nebuchad" Danielsson. Danielsson is one of the top cash game players in the world, who in 3 years has risen from playing the $0.25/50 games to winning over £3 million.
If you do make it into the top twenty of your league, you stand to win one of the following:

1.$14,000 Ladbrokes WSOP Poker Team Package.
2. $2,000 cash plus coaching from Nebuchad
3. $1,200 cash plus coaching from Nebuchad
4. $800 cash plus coaching from Nebuchad.
5. $400 cash
6. $125 cash.
7. $75 cash
8 – 10 $50
11 – 20 $25
Don't forget that even if you miss out on the top 20, you will be eligible for up to 30% cash back via all the player points you accrue in that time. Not to mention you will get a $500 welcome bonus when you sign up via UK Pokernews. So sign up to Ladbrokes Poker