UKPN Feature: Poker Player Prop Bets Part 2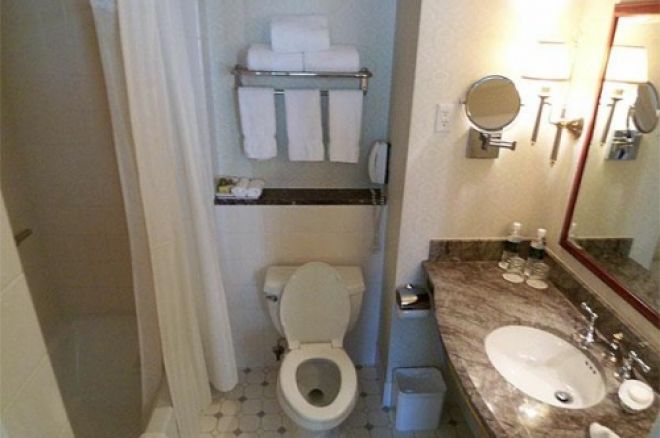 As we told you last week, the details of the Brian Townsend McDonalds prop bet are being finalised but this is by no means a rarity in the world of poker. In fact, right now another high stakes prop bet is taking place whereby a poker player is living inside a hotel bathroom for 30 days with no contact from the outside world. In the world of poker prop bets, a combination of cash and stupidity is usually the only two ingredients needed to make it into the history books.
So with that in mind, let's have a look at some more of the other great poker props of recent time:
Howard Lederer vs the Hamburger vs David Grey vs Olives
WPT and WSOP legend Howard Lederer is also a devoted vegetarian. $10,000 appears to be breaking point of even the most ethical of Herbivores as fellow pro Davd Grey offered him the price of a WSOP buy-in to eat a hamburger. Grey believed that Lederer would never be able to get through it without throwing it back up, but Lederer promptly finished it off in clinical fashion.
Knowing that Grey had an unnatural aversion to Olives, Lederer offered him the chance to win his money back if he were to down a plateful of them. Without even considering it, Grey tossed Lederer the 10k, accepting defeat.
Andrei Karpov vs Marriage
When this man says all-in he really means it. When Russian Karpov lost all his money in a poker game last year he decided to offer his wife as a stake instead. Inevitably he continued to lose and his opponent, Sergey Brodov, turned up at their house demanding his 'prize'. Karpov's wife Tatiana was so angry that she divorced her husband and started a relationship with Brodov anyway, the two have now married.
Brian Zembic vs looking like a man
There is gambling and there is, well, just plain disgusting. Poker player, blackjack expert, table tennis hustler and all round gambler Zembic was bet $100,000 that he wouldn't have breast implants. This came about after a discussion where he claimed that he would get just as much attention if he went for the same augmentation as his friend's well endowed girl friend. Not only did he accept the wager by implanting a pair of 36C melons onto his previously pigeon chested frame, he actually kept them. He claims they are a total babe magnet.
The extra 100k in the bank hasn't got anything to do with them then?
Phil Hellmuth vs Phil Ivey vs making money at a final table
When the legendary Poker Brat made his landmark 39th final table in the $3000 NLHE event last year, he cashed for just over $76,000 when he came in 6th place – a good return on $3000 by anybodies standards. However, whether it was fear of a bad beat or just an urge to gamble twice in the same hand, Hellmuth continually went over to Phil Ivey who was sat at the rail to get insurance on his hands. For example, when Phil held Aces against 7-4 Ivey offered him a $20,000 wager where he would pay $90,000 if the aces were cracked.
The good news for Phil was that the hands all held up when all-in. The bad news was that he finished in 6th place and was actually $33,000 down, having spent $109,000 on wagers and winning only $76,000. Phil Ivey, who was at the rail, actually won more money without even playing.