UKPN Feature: Poker Player Prop Bet Stories Part 1

Barry Carter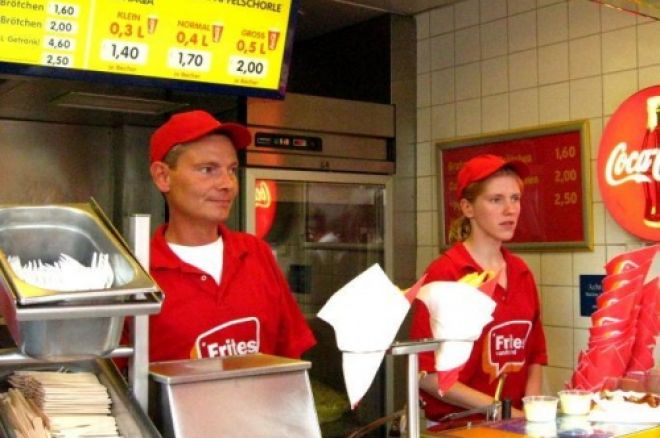 If you have read some of the bigger internet forums this week you'll learn that online cash game giant Brian 'Sbrugby' Townsend is about to work at McDonalds. No, he hasn't finally gone broke, it seems the millionaire cash game player has lost a prop bet with fellow Cardrunners instructor Brian Hastings and will be working at the golden arches for up to 20 hours.
The prop bet is the great leveller and Achilles heel of poker players. Even with multi-million dollar figures in the bank the pros cannot resist a crazy proposition bet – whether it is for huge sums or just the humiliation of your friends. Whether it is just born from a desire to gamble or a cockiness from ones success in poker is not certain – but gamblers can close arguments much faster than the rest of society by uttering the words "I bet you".
We here at Pokernews want to salute the all time legends in prop betting, the poker players for whom ace-king versus pocket queens is simply not a gamble enough. So for the next few weeks we will be celebrating the all time greatest poker prop bets:
Kerry Packer vs the Oil Baron
The recently deceased billionaire and poker player was a legend for the sheer amount he had wagered in his 68 years. In 1999 he had a three week losing streak that cost him over $28 million and has won a total of $33million from the MGM Grand Casino alone. Unofficial reports suggest that he was a winning gambler making an annual return of $7 million a year. When challenged to a game of poker by a Texan oil investor who told him "I'm worth $60 million", Packer casually produced a coin and told him "Heads or Tails? I'll toss you for it".
Johny Moss vs the Bar Brawler
The legendary poker player did not make the list for his infamous marathon card session against Nick 'The Greek' Dandalos, but for a much shorter head to head he had with a local bar thug. Moss was offered odds of 15-1 that he couldn't knock out the giant bar bruiser who reportedly never lost a fight in his life. Moss started by sucker punching the brute from behind but ended up in hospital himself with several broken bones.
"15-1 was too good to pass up" he said later.
John Hennigan vs Iowa
Makes the list not for winning a bet, but for losing a bet that would have otherwise stopped him gambling. The WSOP and WPT title winner was made a six figure bet that he couldn't spend 6 weeks living in the very quiet city of Des Moines, Iowa, which boasted zero casinos at the time. Hennigan thought he could spend the month playing golf but could not stand to be away from action so much that he lasted exactly 2 days before he was back gambling in Vegas.
Ashley Revell vs his Bankroll
Poker player Ashley Revell from the UK quit his job and sold everything he owned other than the clothes on his back, he even changed his name to that of a popular online gaming room for some extra money. What did he do with his lives worth of £76,740?
He put it on red in a single roll of a roulette wheel…..and he won.
Stay tuned to UK Pokernews for more legendary poker propping.