Poker Heaven VIP Wins the First Major Tournament of 2008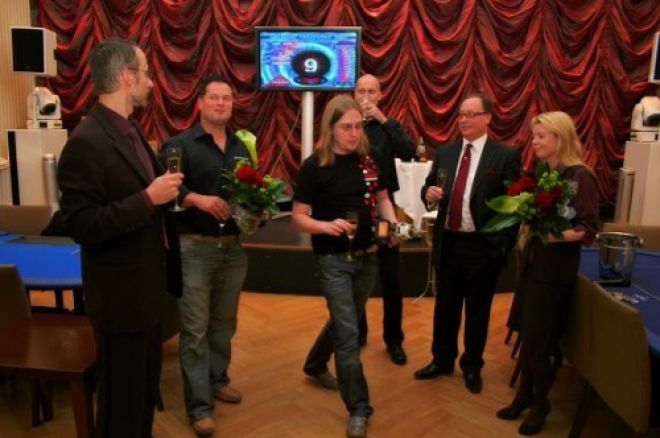 Poker Heaven player Juha-Rauno Lampila has won the first major European tournament of 2008, the Helsinki Freezeout. Lampila managed to see off a very strong field of 200 players to take the title, a cheque for €160,825 and a place in the top 5 of the latest European Rankings.
After building up a big stack early on in the tournament, Lampila managed to stay right up there with the chip leaders throughout the two day event, with the crucial hand arriving when the tournament reached the final table stage. Fellow Poker Heaven qualifier Jarmo Härmä moved all in under the gun for 80k, Antti Meriläinen called, and JR Lampila moved in for a total of 220k with pocket tens. Meriläinen pondered the call for a long time and then folded his hand, showing an Ace and a King. The river card was an Ace, meaning that had Meriläinen made the call, eventual winner Lampila would have been eliminated from the tournament in 9th place.
After claiming the biggest win of his career, Lampila commented "This was a great victory. It was my second visit to the Helsinki Freezeout and after making the final table last year; to go on and win was a special moment."
To celebrate his impressive victory, Poker Heaven will buy Lampila into the Midnight Sun event, which takes place at the Grand Casino, Helsinki in June 2008. This will offer him a chance to become the first player in Finnish poker history to win back-to-back titles.
Poker Heaven's VIP Manager Josh Thomas said "As part of our continuing commitment to the Finnish poker market, Poker Heaven were delighted to be able to send such a strong team of players to this year's Freezeout, and we are obviously very proud of being associated with the eventual winner JR Lampila. With only 5 months until the Midnight Sun tournament, Poker Heaven will be the first place to book your seat in Helsinki, with promotions starting as early as February. After the success and popularity of the live Freeroll - we plan to hold a bigger and better event in June!"