Party Poker Premier League Returns with $1 million Prize Pool!

Anne Edwards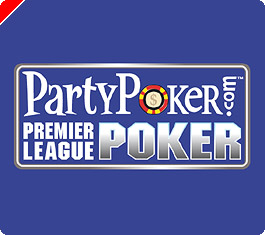 PartyPoker.com has announced the return of The Party Poker Premier League Poker in February 2008. The unique and exciting format features twelve of the world's best players competing in a poker league for a $1 million prize pool. The event takes place between the 10th and the 16th February and will be first broadcast on Channel 4 in the UK in late March.
With a special system developed to show off the legendary poker skills of each player, they will play six times in the preliminary stages. The leading four players after the first stage will then progress to the final table, with the next four battling it out in heads-up matches for the final two seats. Each player will buy-in for $60,000, with PartyPoker adding a generous $280,000 to make the pool a cool $1 million, up from $500,000 last year. Nine of the twelve players from 2007's successful event return this year, with the newcomers being "Flying Dutchman" Marcel Luske, Annie Duke and Alexander Kravchenko. As before, the outspoken Phil Hellmuth will head a top field of professionals that also includes Dave 'The Devilfish' Ulliott, Tony G, Andy Black, Ian Fraser, Roland De Wolfe, Vicky Coren, Juha Helppi and Eddy Scharf.
Party Bets has opened a market on the tournament and currently make Devilfish the 5-1 favourite. Last year, Finland's Juha Helppi won the title on his birthday, with Scharf finishing second and Hellmuth third. The players are looking forward to the forthcoming re-match, with Phil Hellmuth commenting "After winning four out of six matches in the Premier League last year, I was in massive pain when Juha Helppi beat my K-K with his 8-7 off suit and made me finish third in the finale. I told Helppi, "I'll be back!" Now it's 2008, and here I come!" Retaliating with some fighting talk, Juha Helppi stood his ground, saying "It will be very hard to take this title from me. I will do anything it takes to defend it!"
Well known poker professional Tony G, who is known for his entertainment value at the table, also expressed his excitement about the approaching event, saying "Premier League is something I look forward to for months. It's the best event in poker in my book. Last year was a disaster for me and I want to prove it was a freaky event. Only winning this year will make things right for me and I want to bust Hellmuth so hard to get him on a boat back to the US ."
A PartyPoker.com spokesman said: "Premier League Poker was an outstanding success last year with both players and viewers. Devilfish's recent form makes him the favourite to win, a status that he is bound to embrace much to the annoyance of Hellmuth and Tony G."
With so many top professionals involved, who will your money be on?