The Texas Holdem Club Novi Sad - 80k guaranteed

Imre Benko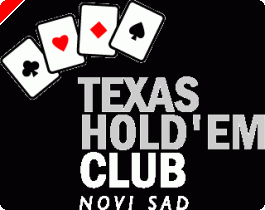 The Texas Holdem Club Novi Sad - 80k guaranteed
The most exclusive poker club in Novi Sad and in Vojvodina, the Texas Holdem Club, has organized a Poker Tournament with a guaranteed prize fund of 80K.
34 players took part from every part of Serbia, however most of them were from Novi Sad and Belgrade, and the special guest at the tournament was Mr. Boro Zdravković, the Vice President of Stella Poker.
In spite that the blind structure was slower, there were many early actions from the beginning of the tournament, and in the first 80 minutes there were 15 rebuys and 10 add ons, by which the guaranteed tournament sum of 80.000 was gone, and was stopped at 127.600.
In the eliminating part of the tournament, the play has been very slow and 3 tables were left after two and a half of playing.
At midnight the final table has started.
At the start of the final table, the dominating chip leader was Sava Mićin in which he had 1/4 of the total chips, but he did not succeed to maintain his chip lead, and in the end came 3rd.
The biggest surprise of the tournament were the rankings of two younger players, the members of the Texas Hold'em Club in Novi Sad, Danijel Jović – Dexter and Popular Bega. These guys have reached the rankings at the poker tournament 80 K, they have occupied the 2nd and 3rd place at one of the freerolls, which have been on Saturdays in the Club and they had beaten practically 75 people to reach the rankings! They have occupied the 2nd and 4th place at this tournament.
The tournament winner was Stefan Urošević from Belgrade. It is interesting that Stefan seemed to have more luck at the Final table, for example, when he pushed all in, with weaker ace A2h and got a flush at the river and survived. The next hand was also interesting, in which Stefan as the dominate chip eader again had the weaker hand


, and Bega


, the flop was



, on the turn has come

and at the river

. This eight gave Stefan the first place and the prize of 51.000.
The tournament was very successful but and more of these tournaments will follow.
The buy-in for the big New Year's ''NOVI SAD OPEN 2007'' NL Texas Holdem Poker Tournamet is 300+30 euros. The New Year' s tournament is freezeout, and the satellites are rebuy.
The exotic prize for the tournament winner of the ''NOVI SAD OPEN 2007'' are supplied by the sponsors and the tournament organisators - Lamby Grupa and Stella Poker.
Information at the telephone: +381 64 97 44 062
yu.PokerNews: Visit the First Novi Sad's Texas Holdem Club, we guarantee You the good fun and pleasant friendshipping! By this, do not forget that the playground room Titan Poker gives you very attractive bonus of 100% at the first payment till $500+$50 FREE!