PartyPoker Late Night Poker Line Up Released

Barry Carter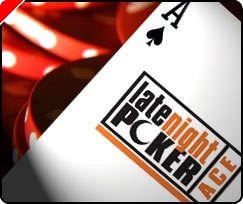 Now that we have had a bit of fun and got the celebrity heat out of the way, it's time to knuckle down and concentrate on the real action in the new series of Late Night Poker. The show, which many regard as one of the catalysts for the poker boom, returns to our screens after a 6 year hiatus on Tuesday. As expected there is a mix of the old school guests and some of the cream of the new breed of poker players.
Tournament sponsors PartyPoker have released details of all the preliminary heats, with full line ups and dates. It's a veritable who's who of European poker right now, with some unknown quantities in the form of online qualifiers.
All very juicy line ups, one which has caught our eye is Heat3. Featuring the unpredictable Marcel Luske, the Late Night Poker veteran Surinder Sunar, the outspoken Robert Williamson III, WSOP finalist Jon Kalmar and WSOPE sensation Annette Obrestad. This really is one that anybody could win and it will be fascinating to see which one of these superstars will try and run over the table.
Another table that could be a blink and you'll miss it affair is heat number 6, which includes Paul Jackson, Praz Bansi, Andy Black and Ram Vaswani. The latter three men will all be vying to build a big stack early so there will surely be fireworks in this heat.
Don't be surprised to see a few online qualifiers making it to the final in this one, as well as a few of the old guard too. The full line up is as follows:

HEAT 1 15/1
Ian Frazer
Simon Trumper
Roy Brindley
Karl Mahrenholz
Jen Mason
Bo Sehlstedt
Tom O'Shea ( Qualifier )
HEAT 2 22/1
Eddy Scharf
Jac Arama
Julian Thew
Kevin O'Connell
Maria Demetriou
Martin Wendt
Ketul Nathwani ( Qualifier )
HEAT 3 29/1
Marcel Luske
Koroush
Surinder Sunar
John Kalmar
Annette Obrestad
Robert Williamson III
Henric Olander (Qualifier)
HEAT 4 5/2
Roland de Wolfe
Marc Goodwin
Michael Keiner
Padraig Parkinson
Dave Colclough
Erik Andrén ( Qualifier )
Marian Thissen ( Qualifier )
HEAT 5 12/2
Joe Beevers
Liam Flood
Rene Mouritsen
Agnieszka Rylik
Dave Ulliott
Andreas Jörbeck ( Qualifier )
Jon Parsons ( Qualifier )
HEAT 6 19/2
Ram Vaswani
Andy Black
Paul Jackson
Maud Mulder
Praz Bansi
Anders Henriksson
Tobias Reinkemeier ( Qualifier )
HEAT 7 26/2
Barny Boatman
Donnacha O'Dea
David Tighe
Pascal Perrault
Xuyen Pham
James Close ( Qualifier )
Paul Kristoffersson ( Qualifier )

Ed note: PartyPoker is the place to be for juicy in online cash action