PokerTour07 Final in Vienna: First Austrian State Champion

Savantos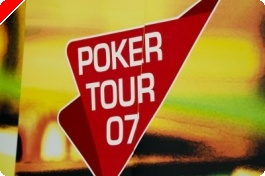 28-year-old Gregor Fanzott (Kärnten/Austria) became on 14th December 2007 the first Texas Hold'em No Limit Austrian State Champion. Here are some updates from the two day event in Vienna:
14th December 2007:
Although there were 81 qualifiers, only 73 entrants participated on Day 1 in order to determine the 16 players for Day 2. The tournament started at 5 pm with 15,000 in chips and 45 minutes blind levels.
After 90 minutes, 6 players headed for the rail and after the dinner break at 10 pm only 60 players remained. Then came the first interesting confrontation of the day: Ivo Donev limps preflop with A9o and Jan Schwarz checks his option holding K7s in the big blind. The Flop comes 494 and after being checked to, Ivo gets check-raised after betting the pot. Ivo moves all in and after a short deliberation, Jan calls his 12 outs and hits the flush on the river. Chip leader Florian "Ghoulio" Höller had about 70,000 Chips and so Jan Schwarz was able to catch up with this 50,000 pot.
At about 1am the field was down to three tables and the remaining 24 players were fighting against tiredness and stupid mistakes. At 1:30 am eight players lost the battle and Day 1 ended. The last 16 players made it to the televised Day 2. Here are the chip counts:
Table 1:
Seat 1: HÖHER Christian (22,200
Seat 2: HASLINGER Harald (21,800)
Seat 3: DOMIG Marc (64,500)
Seat 4: HÖLLER Michael (55,600)
Seat 5: SCHULZER Hannes (78,000)
Seat 6: NEUBAUER Roman (159,300)
Seat 7: FANZOTT Gregor (20,00)
Seat 8: FRIEDL Helmut (37,700)
Table 2:
Seat 1: RAMMINGER Philip (44,000)
Seat 2: MAGES Wolfgang (105,500)
Seat 3: HÖLLER Florian (99,400)
Seat 4: SCHWARZ Jan (153,500)
Seat 5: EDY Heinz (90,000)
Seat 6: GRANIG Hans (39,800)
Seat 7: RUMLER Markus (63,400)
Seat 8ARING Wolfgang (45,300)
15th December 2007:
At 5 pm the remaining two tables started off. Small stack Christian Höher played very aggressive right from the start and was able to pick up a few of the blinds but it wasn't to be and his tournament ended in 16th place. Michael Höller finished 15th when he lost all his chips with two pair AA77 v 777, Wolfgang Haring followed him to the rail in 14th place as he lost against kings full of tens.
Next up was Florian Höller. He went all in with pocket 5s and was called by KK. With no help from the board he finished 13th.
Helmut Friedl was leading with A9 vs KQ, but was kicked out of the tournament when two Queens came on the board.
Next in the line was the youngest player, Harald Haslinger to head for the rails.
Marc Domig was racing with 88 vs AK and lost the coin flip on the turn when an ace hit the board. Bubble boy was Heinz Edy who had his kings cracked by aces.
Chip count for the final table:
Jan Schwarz 163,500
Gregor Fanzott 276,000
Hans Granig 63,300
Philip Pamminger 98,300
Roman Neubauer 193,600
Hannes Schulzer 73,300
Markus Rumler 91,100
Wolfgang Mages 140,600
First to leave the final table was Hans Granig winning €720. He lost with AK against Jan Scharz's pocket Tens who was eliminated next (€900).
Six players remained in the tournament with blinds of 4000/8000 and a 800 ante. Nobody wants to get busted with heads up just around the corner.
Chip counts:
Wolfgang Mages 179,100
Gregor Fanzott 239,200
Philip Pamminger 388,100
Roman Neubauer 56,800
Hannes Schulzer 174,100
Markus Rumler 52,300
Wolfgang Mages moves all in with 66 and is called by Gregor Fanzott's AQ. No help on the flop but Fanzott makes two pair by the river. Mages is eliminated in sixth for €1080.
Shortly after, Hannes Schulzer moves his remaining chips in the middle and his 55 is called by Philip Pamminger with QJs. The board shows 279Q6 and Schulzer is out in fifth (€1,440).
Alex Rumler went out in fourth. After having doubled up against Gregor Fanzott in the previous hand, Fanzott calls again and shows 88. Pocket 8s hold up and Rumler is out winning €1,800.
After eliminating Roman Neubauer in third for €2,340, it was heads-up between Gregor Fanzott (454K) and Philip Pamminger(646K).
Pamminger goes all in with K6 on a KJ2 board and is called by Fanzott's K9. No help for Pammeringer and so he has just 150,000 in chips left. Two hands later it was all over: Fanzott has 79 and bets out 60,000 on a 689 board. Pamminger moves in with K9 but loses the tournament as his opponent hits a 5 on the river for the straight.
Gregor Fanzott wins the Pokertour 07 and received €6,120 for his victory. Runner-up Pamminger earned €3,600 for finishing second.