Huge Money Changes Hands in Betfair Poker Cash Games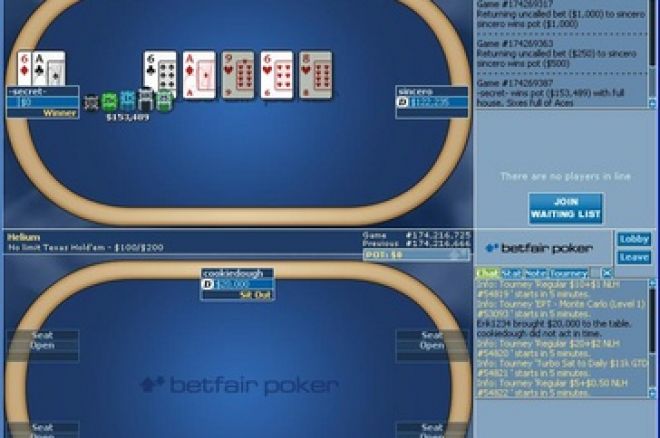 There is no doubt that Betfair Poker has become one of the fastest growing poker rooms in Europe in the last twelve months. Not only did they host the WSOPE but they signed a sponsorship deal with its eventual winner Annette Obrestad. The poker room itself has had some major software upgrades of late, which has been hitting all the right notes with the high stakes players.
Most notably a crazy $250/500 no limit hold'em ring game that has seen some massive pots. Yesterday morning almost $600,000 was sat at the table with two players remaining – 'operation' with $150,000 and 'SuckMyD' with $450,000. It is estimated that Swedish player 'SuckMyD' won around $330,000 in that session.
'SuckMyD' will surely be a good tip to win this month's Betfair Poker cash game leader board. This is a concept unique to Betfair Poker which celebrates the most successful cash game players based on their monthly profit for both high, medium and low stakes. Last month Betfair's own Ben 'Milkybarkid' Grundy took down the high stakes leader board and a $3000 prize in the leader board freeroll.
"It's good work if you can handle the pressure," said Betfair spokesman Oliver Bowen. "Betfair is very popular with high-stakes poker players because our payments system is one of the best on the web. When you are putting so much money at stake you want to know that the site is secure, payments can be made quickly, and the exchange rates are fair. Our software has come on leaps and bounds. We have seen a strong increase in player numbers over the last few months and these high-stakes games give all the players some good entertainment."
Whether you are a high stakes nosebleed player or a nickel and dime shark, you can benefit from an exclusive Pokernews bonus when you sign up to Betfair Poker with us. Just use the code BF1000 and you will be eligible for a bonus up to $1000 – that's more than enough for your shot at the big games.