APAT Announces European Amateur Poker Championship

Mel Lofthouse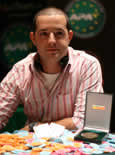 APAT, in association with Blue Square.com, announced details of the 2008 European Amateur Poker Championship.
The 2008 European Amateur Poker Championship will be held at the Poker Royale Casino; the home of Europe's largest card-room, which is just outside of Vienna in Austria.
The event will have 200 players and a £75 buy-in (registration free) be played over the Easter bank holiday weekend. Play will start at 2.30pm on Saturday March 22nd 2008, with the final being held the following day.
Online satellites will be held at Blue Square at 8pm on every Tuesday, Wednesday and Sunday night, starting on February 3rd and running up to February 17th. The entry price for satellites will be $30 + $3 and there will be a $600 prize for every 20 players. Each satellite will offer 3,000 chips and 12 minute levels.
60 seats will be allocated to European based poker groups and amateur players are expected to attend this event from Scandinavia, Italy, Germany, Austria in addition to the UK and Ireland.
The remaining seats will be sold via a direct buy in from the APAT home page at 9pm on Monday February 18th.
More details will be available on http://www.apat.com in due course.