Behind the Scenes at the Sky Poker TV Studios

Barry Carter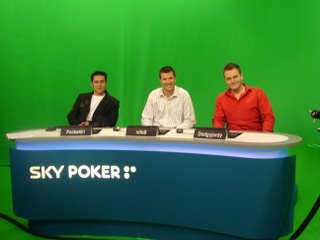 As I was sat in the green room at the Sky Poker I found myself reassuring Sophie, one of the other guests that night. She was pretty nervous about being on TV so I told her "Relax, it's a really specialist audience, probably something like 5000 viewers tops". A statement I personally believed.
"The average rating is about 110,000 viewers" she quickly informed me. That quickly saw a role reversal on the most nervous person in the green room stakes.
Sky Poker is becoming huge. 110,000 viewers is a significant portion of the overall TV demographic, all tuning in to watch DP Fitzgerald and Grub Smith make fun of the (natural) white streak in my hair. It's been a while since anyone called me 'badger'.
If you happened to catch me on Monday night, I might have appeared jittery and nervous in the opening minute of my interview. As it happens I wasn't, what actually happened was that the second they started talking to me I flopped a full house in the game I was playing. I was stuck in a limbo because of the conflict of having to act professionally and my instincts to jam a big pot as a poker player.
The Open looks pretty big when you watch it on TV, but it is in fact a very cramped little green room. For the most part, we guests were left to play online poker, while our two hosts jabber on for three hours. I have the upmost respect for DP and Grub (Though not for their names) – being able to stay in character like that and never leave a moment of dead air must be a hard graft.
With a £50 bounty on my head, I didn't last very long on the feature tournament of the show, the structure is pretty crazy as it is and I was bust within about 15 minutes. The consolation tournament, Velocity, is even crazier and I lasted about 3 minutes in that one. I faired a little better in Velocity 2 but still bombed.
Probably the single most noticeable thing about the Sky Poker tables is how friendly they are. Rarely have I seen that much chat activity in all the tables I played on and everyone is asking each other where they are from, what their jobs were etc etc. As I was a guest on the show, I found plenty of people talking to me, mainly asking me for advice as a player or how much money I had in the bank.
I finally redeemed myself in a sit and go and won £18 for charity by coming second. I think that may mean I was about even for my time at the tables, which I guess is better than some of the guests, but not good enough for someone they kept referring to as 'the pro'.
What really impressed me about Sky Poker after my appearance is the sheer size and potential of it. The schedule for channel 846 is getting meaty and the shows they produce are high quality. There is a real camaraderie amongst the 110,000 viewers, all of whom are developing as players at the same rate that Sky Poker is developing as a multi-media poker platform.
I genuinely believe that Sky Poker could evolve into one of the biggest poker rooms in the UK in the next few years. The television format is attracting a whole wave of new players, and retaining them by aiding their development from novice to expert. I wager it won't be long before we are seeing Sky Poker T-shirts at the tables at the WSOP and maybe one day we'll see a Sky taught poker champion.