Stocking Fillers for Poker Players!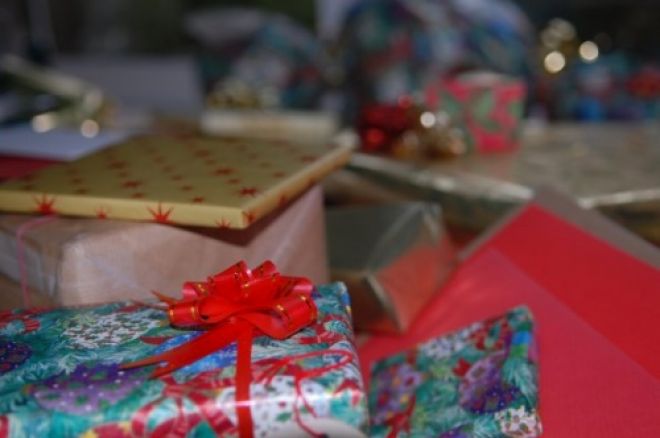 When I was a kid, I liked the Simpsons. This meant that without fail every Christmas I would be opening up Simpsons socks, Simpsons pants, Simpsons shower kits, Simpsons annuals, etc, etc. It took a long time to get my friends and family out of this shopping habit. Even now I get the odd Homer toothbrush or Krusty pencil sharpener. Today, I am still the victim of the lazily thought out present, as I imagine many of you are, with the poker gift.
Every year, without fail, I will get at least two boxes of poker chips. I actually think that if Harrah's ever somehow 'ran out' of chips next year at the WSOP they could give me call and the cardboard boxes in my spare room could save the day. This is a forgivable error in shopping, what with internet poker, it is perfectly feasible to assume one may not actually host their own home game now and then.
The automatic card shuffler seems like a great novelty present, one which I'll be expecting again this year. But have you ever tried using one of those things? By the time you finally manage to get the cards in the spaces provided a half decent dealer could have dealt the river by now, plus the noise they make will stop you from practicing your best Tony G table talk.
The worst present though, has to be the poker book. You never get one of the big meaty books written by a world champion, like a Harrington on Hold'em or a Supersystem, because they rarely are on the shelves in WHSmiths. What you tend to get is a 45 page glossy book called How to make $$$$ playing poker or Ainsley Harriot's Poker Party.
So if your friends and loved ones are still asking you what you want, have a think about some of these, or face another year, another 100 poker chips:
Online Training
The sign up fees for training schools like Cardrunners or PokerXfactor are quite steep, but worth the investment. Get your mum to sign you up to one of these training schools and maybe next year you'll be buying her a new house.
Poker Table
So you have forty thousand poker chips but nowhere to put them. A poker table used to be a specialist piece of hand crafted equipment that would set you back a small fortune, but now you can have one in the comfort of your own home for a reasonable price. You can splash out on a customised table if you have the reddies, but you can also get a very stylish folding table which is easily stored for under £100.
Full Tilt Vouchers
You don't want book vouchers, because the only books you can buy with them is Ainsley Harriot's Poker Party. Vouchers are a troublesome present at best, but at Full Tilt Poker you can buy vouchers to play at their poker room. Not only will you be able to use them doing something you love, you might end up winning big. We don't know what the correct etiquette is for sharing your winnings with the person that bought them for you is though.
Ed note: Enjoy a big deposit Christmas bonus when you join Poker Heaven and pick up €500!