Poker Million Finalists Ready to do Battle!

Barry Carter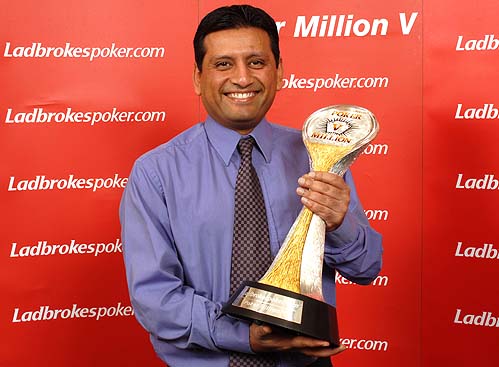 The final table for the Ladbrokes Poker Million VI was set last night and we have a $2 million live final tonight. On Sky Sport this evening, 6 of pokers finest will be doing battle for the $1 million prize won by Rajesh Modha last year.
If last year highlighted a few of the rising stars of the poker world, this year clearly is a showcase of some of the cream of the poker world. We have a returning finalist and Irish Open Champion, an Irish Poker legend, an in form Hendon Mobster, a WSOP UK veteran, a WPT champion and the most in form player in the UK.
The final table and chip counts look like this:

Howard Lederer: 306,000
Marty Smyth: 254,000
Julian Gardner: 225,000
Joe Beevers: 202,000
Liam Flood: 121,000
Ian Cox: 92,000
All the players take will take with them the chips they accumulated in the semi finals, however anyone can win at a table with this much calibre. Lederer is of course going to be the man to beat, with both his massive chip lead and reputation as one of the world elite. Marty Smyth was very unlucky not to win this event last year and has since gone from strength to strength and took down the biggest ever Irish Open.
Liam Flood is one of the true legends of the game and is used to this format, having won his fair share of televised heats in the past. Julian Gardner is one of the most respected pros in the UK, always fairing well in the WSOP main event which came 2nd in. Ian Cox has had an amazing 2007, making more final tables than anyone but yet to capture a title. Finally Joe Beevers is our one to watch, he is the form man having just won the Great British Poker Tour Grand Final and impressing everyone with a World Class display in his qualifying heat.
Our money is on Joe Beevers for this one but if you think differently, you can put your money where your mouth is at the Ladbrokes sportsbook, with the odds currently looking like this:
Howard Lederer: 5/2
Marty Smyth: 3/1
Julian Gardner: 7/2
Joe Beevers: 9/2
Liam Flood: 7/1
Ian Cox: 9/1
Ed note: Join Ladbrokes Poker and you could be in next years Poker Million!