Phil 'The Power at Poker' Taylor!?

Barry Carter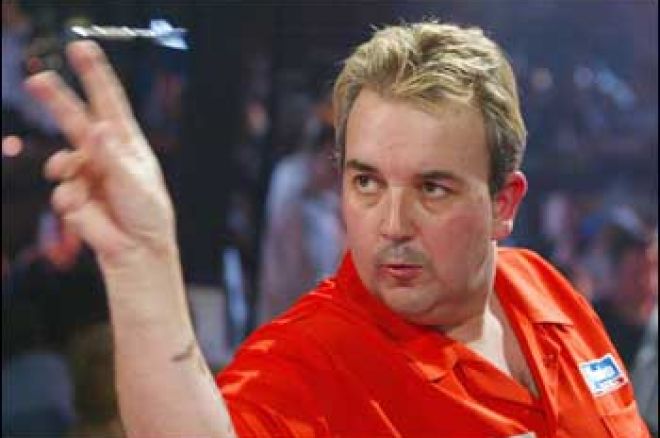 Poker is often tentatively linked with sport, a parallel which occasionally gets laughed at or snubbed by the wider public. If it does have, however, some close ties with the wider sporting world then it is with the more 'pub based' sports – snooker, pool, darts, bowling etc. This tie was confirmed this week when darts legend Phil 'The Power' Taylor declared his big ambition for 2008 – to win a major poker title.
Taylor said in an interview with the Daily Express newspaper that he wanted to play in the WSOP Main Event: "Maybe one day I will play in it. Anyone can enter by paying $10,000 and it would be amazing. I am not going to be playing darts at this level for ever. Would I say I am a good poker player? I can read the game. It's a bit of novelty but it has a serious side because there is a great deal of money at stake."
Taylor of course is being modest when talking about his own ability. In 2004 he won back to back heats in the Pacific Poker UK Open to eventually come 2nd in the final for $150,000. More recently he won the Darts Heat of the Party Poker Sports Star Challenge. But he isn't the only sports star making a name for himself at the baize felt.
Who did he come 2nd to in the Pacific Poker UK Open? Snooker star Matthew Stevens, who won $500,000 in that event and is one of many snooker players to hold their own in the game. Jimmy White may never have won a title at the Crucible, but he did take down the Poker Million in 2003, beating this year's champion Joe Beevers heads up for $150,000. Ken Doherty is a regular on the Irish circuit with over $60,000 in cashes on his record and Steve Davis cashed in the main event of 2006 WSOP.
On the reverse side of things, a great deal of poker players could make a good living competing in some of the above games. Ram Vaswani was a snooker professional before he turned to poker and Mike Matusow, Daniel Negreanu and John Hennigan were all pool hustlers before they turned their attention to cards. Gambling legend Amarillo Slim Preston was one of many poker players turned snooker players turned pool hustlers turned table tennis hustlers. Even Annette Obrestad was pursuing a career in tenpin bowling before she concentrated on dominating poker.
So what is the link? Well, we hate to say it but you don't have to be a finely tuned athlete to excel in any of these sports so they are all great avenues for competitive people that can't necessarily do 100 press ups. They are also recreational games that one plays for fun first and the occasional wager can make it more interesting.
Finally, poker is a game you will often find being played in the bars and backrooms of snooker halls, pool halls, pubs and bowling alleys. With the new gambling act allowing poker playing to be allowed in pubs, we have no doubt that we'll soon be seeing professional snooker-darts-poker players and maybe one day we'll see a new series of 'pub Olympics' featuring all the games in one.
Ed note: Excel at poker online when you join Mansion Poker