UK PokerNews Interview: Matt Broughton from Sky Poker's 'The Club'

Barry Carter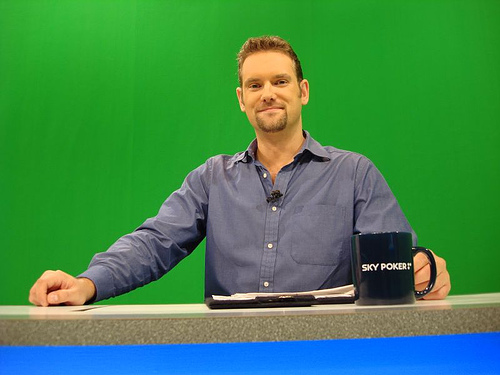 Anyone who says that men cannot multi-task should take a long hard look at Matt Broughton. The poker player/editor/tv presenter is one of the faces of Sky Poker. His new show The Club is one of the first of its type – a daily poker magazine show on channel 846 and we caught up with him earlier this week:
UKPN: Did you ever think there would be a daily poker magazine show like the Club?
Matt: I don't really think I thought about it until I saw the proposals for The Club. When you actually saw the idea on paper it seemed strange that there wasn't one already!
UKPN: For those that don't know, what is the club and who is it for?
Matt: The Club is a half hour show that broadcasts a new show every night at 8:30pm on Sky Poker ch.846. It's primarily a show for the community that plays on Sky Poker, but is obviously of interest to general poker enthusiasts. The show has a mix of chat, tournament reviews, poker news, guests and Sky Poker players. We always have at least one key guest per show, taking viewers' phone calls live in the studio as well as talking about key topics. Guests might be pro players like Raj Modha and Paul Jackson, industry faces like Jen Mason and Roy Houghton, or Sky Poker Analysts like Mark Banin and Tony 'Tikay' Kendall dropping by for a chat with the viewers.
UKPN: What should we look out for in the Club in the coming weeks?
Matt: As we get closer to Xmas Sky Poker has a lot going on, so we'll probably focus on the big online events and try to get as many viewers and players involved in the show as possible. We also have plenty of juicy guests lined up (I don't want to spoil it!)
UKPN: You must be one of the busiest men in poker right now, how would you describe your job description? Poker player, TV presenter, editor or something else?
Matt: Well it changes from day to day! A couple of months ago I would have said I was a magazine Editor who played a lot of poker and did a bit of TV. Now I seem to be a TV presenter who does a bit of writing and plays poker when he can. I also run a poker events company (www.pokerevenings.com) that gets very busy this time of year… so I'm always doing something. I can't complain though – I love it. A few years back no one cared that I loved poker, now it's become a world of possibilities.
UKPN: How far can Sky Poker go? What else do you see in the future of the channel?
Matt: I think Sky Poker is only limited by the size of the audience and the interest in the game. Considering Sky Poker only launched in the middle of 2007 it's pretty mind-blowing to think that it already has a nightly tournament show that sells out every single night (The Open), a weekly outside broadcast show (Poker Week) and now a nightly magazine show in The Club. Sky Poker already has its affiliation with Pub Poker league 'Poker Project' but I think next year you'll see the Sky Poker brand reach out to more live events and off-screen projects.
UKPN: Between the Open and the Club you are aiding the development of new uk poker players, don't you realise that's making the games tougher for the rest of us grinders?
Matt: LOL! It's a good point, but I think there's a clear line between the recreational 'hobbyist' poker players that we mostly see on Sky Poker and the serious 'playing-for-money' players. I've discovered I enjoy working in and around poker far more than just concerning myself with making a living as a player, so the more the merrier as far as I'm concerned. Poker has become an overly-serious subject over the last couple of years, and mingling and playing with less-serious players who regard poker as a 'good night out' has brought a lot of fun back into the game for me.
UKPN: Have you seen an improvement in the standard of play at the open since the channel first aired?
Matt: It's hard to say because The Open is a pretty 'turbo' affair, and we seem to spend more of our time watching the best hands lose than win! Because there are so many people who play The Open and nothing more, we've certainly seen players getting to grips with how best to do well within that specific tournament structure. Probably the biggest improvement I've personally witnessed is players' ability to let losing hands go regardless of how much they've invested in the pot. It's a difficult concept for beginners to accept, but they are all gradually developing better habits. There's one player who has now won The Open four times. To beat a field of 650 players in a short-handed speed tourney like The Open takes some doing, so clearly there are some real experts developing out there!
UKPN: Have you had a day in the last year where you haven't said the word 'poker'.
Matt: Even if you extended that question to encompass a three year period I still think it would be a 'no'!
ED Note: Join Sky Poker today and maybe you can have your bad beats reviewed by Matt at the gang on the Club