Lovejoy! - an Interview with Kevin O'Leary

Barry Carter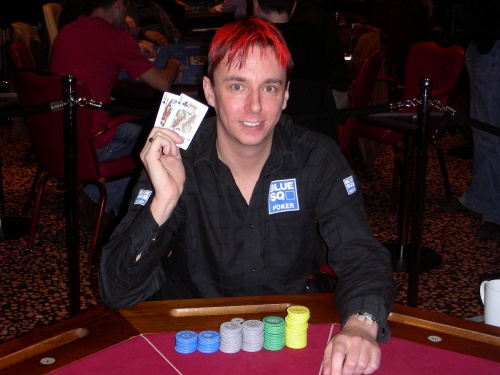 Heads up poker is a quickly developing niche market on the live tournament circuit, but the UK has a lot to shout about in this department. Jeff Kimber took down the World Heads Up Championships in Barcelona and now Kevin 'Lovejoy' O'Leary has won the inaugural GUKPT heads up championship. We had a chat with Kevin after his victory:
UKPN: I recall your poker story mirrored the film rounders – do you want to remind me of it?
Lovejoy: Mirrored may not be the right word, although I've definitely had my moments of dodgy haircuts and overacting, but I'm guessing you're referring to the fact that about 4 years back after a very bad run in the live circuit I went skint and returned to work. In fact I didn't go totally broke, but I had bills to pay and was running bad so decided that I needed a regular guaranteed income for a while even if it was a low one. In short I ended up driving a delivery truck (past the Victoria casino every night just to rub it in!), and then playing the limit hi-lo game on PartyPoker in the small hours when I got home. I was normally earning more online than in the regular job but it was unstable, so I stuck it out until I rebuilt and was back on my feet. Finally I took a week off and played a live festival. I cashed in the final of the main event and was back in the game properly and never looked back.
UKPN: Where did the nickname Lovejoy come from?
Lovejoy: I used to be involved in an antiques business called Love joys years ago. The name stuck when I moved onto poker. I came out of dealing in antiques and started turning into one instead.
UKPN: Are you sponsored and if so, how did you come to be so?
Lovejoy: I've had a few backers for bigger events in the past but Blue Square Poker took an interest on a small scale a few years back and my original sponsorship grew from there. Sponsorship is a common thing these days, but it really makes a huge difference to have a sponsor who understands things fully. It helped a lot that I was winning again from the word go so the first year effectively cost them nothing and they got a good return and plenty of advertising! We have a great working relationship and they are genuinely passionate about supporting the UK poker scene. They understand the unpredictability of the tournament circuit for a pro player, and always respect my judgement about what I will or won't play.
UKPN: How much of your time is divided between live and online play?
Lovejoy: I've kind of come full circle-I mainly play live poker again nowadays and maybe 30% online, but for a while I became almost totally an online player, moving from mostly tournaments and NLH cash in the old Tribecca days, to PLO and then heads-up matches. I've rarely played ring games for particularly big stakes online because I've always felt that the temptation for people to collude in say, Pot limit Omaha, where having the second nut flush and KNOWING that the ace has been folded is of such importance that I'd just rather never take the chance. There's plenty to be made playing $1/2, $2/4 and occasionally $5/10, and I rarely play bigger online. Tournaments and heads-up is a different matter and I flit between buy-in depending on the opposition and how I'm running at the time. Nowadays I play some cash and heads-up, but I prefer using online poker more as a cheap way to win into big land-based tournaments. If you're not careful the online lifestyle can be very unhealthy and your social life and well-being can suffer, regardless of whether you are winning or losing. Balance and perspective are very important.
UKPN: You've won a very prestigious title at the GUKPT final; do you see heads up tournaments getting bigger?
Lovejoy: It's a very pure form of poker, and I think the people who like to play the game on instinct rather than solely as a math-based game will be drawn to heads up poker in coming years as certain events flourish and the crapshoot events eventually die off. You can muddle through a MTT or cash game off other peoples bad play and sometimes go deep pretty easily, but every hand and every street can be a real duel with only one opponent at the table. Sure there are some situations where you both just go to the middle and maybe are both right to do so, but in the GUKPT heads-up most of my matches were a steady progression of chips until I had enough of a lead to take a shot at winning with minimal risk. I almost certainly had some fortunate moments but was never put to a decision for my tournament life from match one right to the final which I was very happy about………
To read more on this story subscribe to the UK PokerNews Magazine or get a copy from your local casino, but hurry as copies won't be there for long!
Ed note: High the big time when you play the juicy cash games at Mansion Poker