UK PokerNews Exclusive: Interview with Sky Poker's Kara Scott

Barry Carter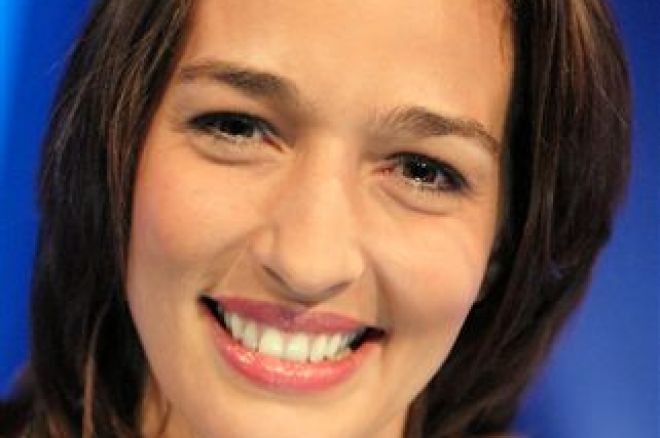 Following our interview with Sky Poker presenter Matt Broughton, we have another UK Pokernews exclusive. Barry Carter had a chat with Kara Scott, presenter of The Open, backgammon expert and formidable poker player in her own right.
UKPN: You have come from a backgammon background and poker have always been closely linked, what should a poker player know about backgammon?
Kara: My introduction to poker was actually through backgammon. The channel Pokerzone commissioned a TV series on professional backgammon play which I was hosting and from there asked me to try my hand at a Poker show (Poker Night Live) and I became hooked! There is a great deal of crossover between the two games and some of the people who are at the top of their game in poker are also high level backgammon players. Gus Hansen, for example. The games are quite similar in that there are betting elements to both (if you're properly using the doubling cube in Backgammon, that is) which can raise the stakes and the pressure as well. Odds are very important in backgammon and it can be a good lesson in how to deal with 'bad beats.' If you play backgammon for long enough, you'll see the worst possible beats with far longer odds happen again and again. It's a good lesson in accepting variance.
Any poker players out there who are interested in giving Backgammon a go should know that it's not as simple as it looks. It's not merely a matter of automatically moving chequers forward based on the rolls of the dice - there is a LOT more to consider with each move and the top players think multiple moves in advance for all the combinations of possible rolls. Not for the faint of heart!
UKPN: If you were to describe the Open to an alien, what would you say?
Kara: It's a modern day Coliseum where people publicly pit their skills and wits against each other like card-playing gladiators; all for the entertainment of the audience who love to root for the underdog and take nearly equal pleasure in seeing stylish play and horrific bad beats.
UKPN: Has the standard of play improved on The Open since the channel launched?
Kara: You'll find that the analysts pretty much all agree that the standard of play has improved dramatically on Sky Poker since it began. Being able to play not only online but also through red button gaming meant that poker became available to a whole new audience of people and as people have been spending their time playing and learning the game, the improvements have been in leaps and bounds. It also takes a while to get used to any new structure, so the regular players have been grinding away and finding what works for them at the Sky Poker tables.
There is a lot to be learned from the different analysts. They each have their own individual styles of play and rather than getting the view that there is only one 'right' way to play poker, I think our viewers are getting a good introduction to the different possible ways to play. Poker is so situational!
UKPN: From your experience of the Open, what is the most common mistake being made by new players?
Kara: I think this has changed over time as the players are learning and becoming more sophisticated in their play. When the channel first launched, a lot of new players were making minimum bets and raises so there was a lot of focus on how to make proper bet sizes and advice on how to decide what a good bet is. I think the advice is now as varied as the play. New player still need to understand which hands are good to play in which position so you'll find a lot of the analysts focusing on that, while the more advanced players might need help on understanding the texture of a flop or how to represent big hands.
UKPN: Do you learn yourself from the advice given on the show?
Kara: I learned how to play poker (and totally fell in love with it!) by presenting it on TV and listening to the experts talk through thousands of hands. It's an amazing resource to be able to watch all of these different hands and situations be played out, with commentary from our analysts and I still learn a lot from it myself. Actually appearing on The Open as a guest is nerve wracking though. I have total respect for anyone who puts their play out there to be analysed on TV - talk about pressure! Its a great way to learn. That sort of tough love where the flaws and weaknesses in your game are trotted out for you (and the rest of the viewers) to take a look at - ouch! But the analysts are good at being constructive when they look at the viewers' poker hands. It's only the presenters and analysts play that gets roasted!
I also love all the questions that the viewers send in, particularly those where I don't know the answers either and get to pick up some new tips from our experts too.
UKPN: Women only tournaments – what are your views on these?
Kara: I have mixed feelings about Women only tournaments. I can definitely see their place in poker right now and understand their value but at the same time I'm very conscious that being a woman in poker isn't a handicap and shouldn't be treated as one. We don't need to be 'protected' from the men in the game. Then again, with so many different categories of tournaments around (father/son, seniors, celebrity, sports stars), why not have some that are just for women? The standard at these tournaments tends to be very good with some of the best female pros in the world taking part, so there's no truth in the idea that they are somehow 'easier'.
But if ladies' tournaments bring publicity to women in poker which makes it easier for women to get involved - where is the harm in that? And for some women, being new to live poker and sitting down at a table where they are so vastly outnumbered can be a real turn-off. Bringing new players into the game (male or female) is always a good thing and I honestly think Women's Only tournaments are doing this. Until the ratio of male/female at the tables is evened out somewhat, I think they'll continue to have a valid place in Poker. And hey, I can't complain as I managed to cash in the Party Poker.net World Women's Open recently! Playing against all female opponents was actually a lot of fun and a good exercise for me.
UKPN: What else is going on for you in the world of poker?
Kara: I've been lucky enough to be signed on to host the TV coverage for the 2007/2008 PokerStars.com European Poker Tour and have been having a ball travelling all over Europe interviewing players and watching some amazing play. We're heading to the Bahamas in January (which isn't strictly speaking a European destination but who's complaining!) and we finish up in Monte Carlo in April for the finale.
There has been some great play and it's a structure that really favours the skilful which is obvious from the quality of the money finishers. Watching the Brit Julian Thew win in Baden was fantastic and when he was overcome with emotion as I interviewed him, I nearly cried myself!
Ed Note: You can play, win or at least learn with Kara and the gang at Sky Poker