ECOOP Event #4 - $100+$9 Pot Limit Omaha with Rebuys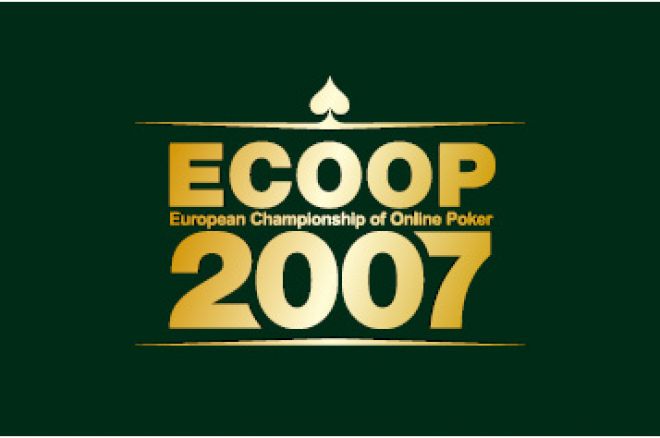 Event #4 of the European Championship of Online Poker (ECOOP) saw 672 players come together to battle it out for the ECOOP bracelet in the $100 + $9 Pot Limit Omaha with Rebuys event. The prize pool once again exceeded the guarantee, reaching a whopping $120,200.
"LuckyPlayCoolie" hit the final table holding a commanding chip lead and was going to be difficult to stop. Congratulations to the following players on making the final table;

fishbuster1 261,844
DeadParrot9 210,342
THEDARKL0RD 296,889
roffson 182,422
Flyingdagger 81,427
AmichaiKK 313,070
LuckyPlayCoolie 693,829
bakircioglu 137,877
Rims 190,556
Deltoid 133,245
It didn't take long before a big clash saw "Deltoid" eliminated in 10th place. He held a strong




but found himself all-in preflop against the




of player "Rims". The board bricked and the aces of "Rims" held up.
Next to go was "roffson" who raised pre-flop with




and was called by "THEDARKL0RD" who held the versatile hand of




. The money went all in on the flop of



with "roffson" holding the lead with two pair, and "THEDARKL0RD" with straight and flush possibilities. The

on the turn brought even more draws, and a

on the river made the flush to eliminate "roffson".
"DeadParrot9" was the next eliminated with a slow play gone terrible wrong. Holding




on a flop of



, "DeadParrot9" held a commanding lead with his two pair against "Rims" who held




for just a pair of kings and a gutshot straight draw. However after raising pre-flop "DeadParrot9", only bet the minimum amount on the flop allowing "Rims" to draw cheaply. When the miracle

came on the turn, "Rims" had made his straight and a brick on the river sent "DeadParrot9" home in 8th place.
"fishbuster1" was next to go after raising pre-flop with




, found himself pot-committed to call the check-raise of "bakircioglu" on the flop of



. "bakircioglu" held two pair with




and it was enough to hold on to win the pot.
A short stacked "Flyingdagger" had been laying low as the others fell, and was looking good for a triple-up holding




against two opponents. Things improved further for the short stack when "THEDARKL0RD" bet the flop with just an open-ended straight draw to drive "bakircioglu" out of the pot, however he was able to make his straight on the river to end the survival of an unlucky "Flyingdagger".
However the luck of "THEDARKL0RD" then started to slide as several large pots went against him. Eventually he found himself all-in with trips holding




on a flop of



. He was looking good until "bakircioglu" turned over




to show a full house and end the tournament of "THEDARKL0RD" in 5th place.
With 4 players left "AmichaiKK" had assumed a large lead, but it was the two short stacks that collided next. "bakircioglu" holding




found himself trailing the aces of "Rims" with




but when the board came





, it was the lone deuce of the hand of "bakircioglu" which made trips to end the run of "Rims" in 4th place.
"bakircioglu" couldn't continue his run and found himself desperately short and all-in with the mediocre




. Both opponents called and appeared set to check it down on a board of





, until "LuckyPlayCoolie" made a bet on the river holding a full house with




. This was too good for "bakircioglu", who had played very well to finish in 3rd place.
Chip stacks were relatively even at the start of the heads-up contest and it was quite a battle until "LuckyPlayCoolie" was able to open a 2:1 lead over "AmichaiKK". The final clash came on a board of



with "AmichaiKK" holding




for a pair of aces, but was in desperate trouble against the set of "LuckyPlayCoolie" who showed




. "AmichaiKK" was unable to hit a miracle ace and was eliminated in 2nd place, leaving "LuckyPlayCoolie" as the tournament and ECOOP bracelet winner!
Congratulations on all the players who made the final table, and were lucky enough to receive the following payouts;

LuckyPlayCoolie $27,646
AmichaiKK $16,227
bakircioglu $9,616
Rims $7,212
THEDARKL0RD $6,010
Flyingdagger $4,808
fishbuster1 $3,606
DeadParrot9 $2,404
Roffson $1,682
Deltoid $1,322