Great Christmas Presents from Betfair Poker

Barry Carter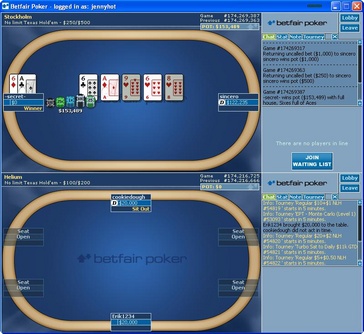 Betfair Poker know that, like 99.99% of the UK population, you have probably left your Xmas shopping until the last minute. This is why they are offering you the chance to win your Christmas presents on top of bundles of cash.
Not only will you earn your usual tournament points that contribute to the Betfair MTT Leaderboard, you will also earn Xmas Present (XP) Points in a select number of tournaments. The top 100 players at the end of the Leaderboard will win shopping vouchers up to the value of $1,500 – on top of all the money they've already won in the tournaments.
Not only can you treat your friends and family this yuletide with the spoils of your success, this Wednesday you can afford to shower them with gifts by being a big loser. That's because they are holding the Xmas Pudding tournament, which looks like it will be turning the MTT format on its head. This is because $300 is awarded to the first player to bust out and the player that 'bubbles'. A total of $1000 is added to the prize pool and don't be surprised to see your aces getting paid off with 7-2 on hand number one.
Betfair Poker also have $500,000 in guaranteed prizes this December. This includes the chance to win both seats in next year's WSOP and WSOPE in the same satellite, a package worth $40,000. There is also a $150,000 guaranteed tournament and up to $60,000 in prizes going to their highest ranked players using the STAX rating system.
On top of all the great promotions, don't forget you can get up to $1000 in sign up bonuses when you sign up to Betfair Poker, which is a nice little stocking filler in itself.