UK PokerNews Exclusive: Interview with 888 Poker Open Winner Andrew Feldman

Damien Oborne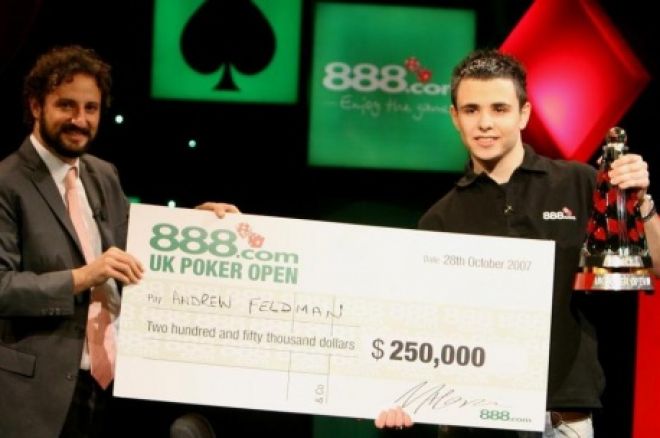 Today I was lucky enough too speak with 888 Poker Open winner Andrew Feldman. Feldman is a 20 year old former paper boy who has experienced a meteoric rise in fame and wealth recently.
UKPN: Andrew, thanks for your time and well done on the victory in the 888 Poker Open.
Andrew: No worries
UKPN: Firstly, how did this meteoric rise start?
Andrew: My history into poker was that I got involved through my brother playing on the Internet and when I turned 18 (July 05) I deposited about twenty quid and played some £1 sit and goes and the cash tables with £0.10/£0.20 blinds.
I guess I probably lost this twenty quid pretty quickly and maybe made a few more similar deposits, but then as my knowledge increased I started winning and gradually going up the stakes to where I am today, which is pretty much the biggest cash games.
UKPN: Did you work at all whilst rising through the levels?
Andrew: I was still doing my weekly paper round as I had been for the previous five years earning maybe 25 quid a week, but as I was beginning to win big, it wasn't long before I was earning in one day what I had in my whole 5 years as a paper boy! It only made sense to give that up and take up poker more full time.
UKPN: Whilst looking up your Poker results I noticed you were listed as a student. Are you still studying?
Andrew: I was doing my A Levels last year, and unfortunately poker got in the way to an extent that I would miss classes to go to the nearest Internet cafe to play. I somehow managed respectable grades of B B C. I now had the decision of whether to go to university in Nottingham to study Economics, as I had a place there, but I decided against it and took a gap year focusing on poker. This gap year has been extended for another year so there is a chance I may go this September but really not sure I would be able to motivate myself into getting a degree!
UKPN: Prior to your 888 Poker Open win you have had many good results including a second place to Tony Poulengeris in event #4 at the NPL UK Open. Are there any other tournament results that standout.
Andrew: I won a 20 pound rebuy at local club and the winner got a trip to Vegas with all expenses paid for two people. But due to my age I will give that to my parents.
UKPN: Ok, now back to the recent victory in the 888 Poker Open. Is there any hand that stands out as crucial to getting so deep into the tournament?
Andrew: In my first heat I had JJ small blind with a very aggressive BB. I limped in to trap him and he re- raised to 10k. I re-raised all in for 80k and was called by QQ. I hit my Jack and got very lucky. Another couple of hands that spring to mind are;
I was on the final table and raised to 30k with QQ under the gun and the big blind, Luke Patten, called the extra 20k. The flop was Q T 9. He checked, and I bet 35k. He raised all in for another 150k or so. I naturally called and he flipped over 88 for a gutshot straight draw. Thankfully my hand held up and this put me in a healthy position to get heads up.
However when we were 1-1, Gideon Barnett had a 2-1 chip lead on me and the hand which swung the chips around was when I raised with K-8 off and Barnett called. I flopped middle pair on a flop of 983 and was happy to check it down, especially when the Ace came on the turn. However to my delight I rivered trip 8s, and Gideon bet 120k into 130k. I raised another 180k and Gideon made a crying call with the Ace. This gave me the chip lead and momentum to be the eventual winner!
UKPN: You are well known for playing some of the bigger cash games. Is there any cash game that stands out for you?
Andrew: I recently took part in the Poker Den, which is a 24 hour high stakes cash game shown on channel 5 at the start of next year. It has some very big poker names such as Brian Townsend, Chris Ferguson, Todd Brunson and Roland De Wolfe. I am now playing more big live tournaments. I recently entered the EPT London, WPT Barcelona and WSOP in London.
UKPN: How did you find sitting with some of the biggest names in world poker?
Andrew: It was my first time playing in a live game that big. It was an enjoyable experience because they were very friendly. I look forward to playing there again.
UKPN: Was it daunting sitting with players that you have watched on TV as your poker game has developed?
Andrew: Not really. I loved being around it and having the chance to meet them. It makes you feel better about yourself and your game. They are the premiership of poker. It made me feel like I had achieved a lot.
UKPN: Do you play many of the big weekly tournaments online?
Andrew: I'm not a very big online tournament player. But I do occasionally play the stars Sunday million. They take to much time and I prefer to concentrate on the cash games. Live tournaments are a different thing for me, I enjoy live tournaments.
UKPN: Any big results?
Andrew: I made the top 50 2 weeks ago in the Sunday Million.
UKPN: How do you rate British online players compared to other countries such as America, Sweden, Australia and Norway etc?
Andrew: They are not the strongest to be honest. I think a major reason for it is because the poker shows are shown at 1am. How can people improve if they can't see the shows in primetime? In the states it's shown at 8pm. I think that affects the standard.
UKPN: You would be used to playing against the same players frequently at the higher levels. Is there anybody that you try and avoid playing against, or have massive respect for?
Andrew: The big Scandinavians. Erik Sagstrom, Ben Sonnett etc. I don't see the point in getting involved with players I don't have an edge over. I'm not there to prove I'm the best, at the end of the day I'm there to make money.
UKPN: So what does the New Year hold for Andrew Feldman? Are you heading to the Aussie Millions?
Andrew: I'm hoping to. I can't go to Vegas this year and the Aussie Millions is the best event outside Vegas. The EPT in the Bahamas is another one I'm looking forward to.
UKPN: Are you 21 years old in time for next years WSOP?
Andrew: No. They have brought it forward from July to May this year, meaning I have to wait another 18 months!
UKPN: So will 2008 see you focusing more on online or live poker?
Andrew: I'll be playing more live tournaments, but ill continue to concentrate on online. I see online as my main source of income. It is extremely hard to make the transition. The speed of live poker frustrates me.
UKPN: What takes place in the average day for Andrew Feldmen?
Andrew: There is no average day to be honest. One day I could be playing all day, the next day I could sleep the day away. It will be more structured when I start playing live tournaments. I'm forever checking for weak players online.
UKPN: You are extremely wealthy for a 20yo. Are you very protective of your poker bankroll? Or do you live it up like some of the well known professionals?
Andrew: I haven't really bought anything with my money. But I did buy a flat and pay off my parent's mortgage. I spend on my family, but I don't show off. I guess I am something of an introvert and don't like showing off with my money.
UKPN: Are you a gambler? Do you take part in massive prop bets? Some of the stories are unbelievable.
Andrew: I don't mind an occasional bet outside of poker. Roland De Wolfe has introduced me to Chinese Poker and I play blackjack occasionally. I used to bet on sports, but I don't anymore. Poker is stressful enough.
UKPN: Do you have any advice for our UK PokerNews readers?
Andrew: Always play games you feel you have an edge in. It's important to have an edge. And be patient! Always look for a reason to fold, rather than a reason to call. Put your ego to bed when playing, if he is bluffing you so be it. Fold and wait for a better spot. You will find a spot when you are the massive favorite.
Ed note: Become a huge poker pro when you join 888 Poker