Poker Heroes vs One Cheating Sonofabi...

Catman - The Poker Agent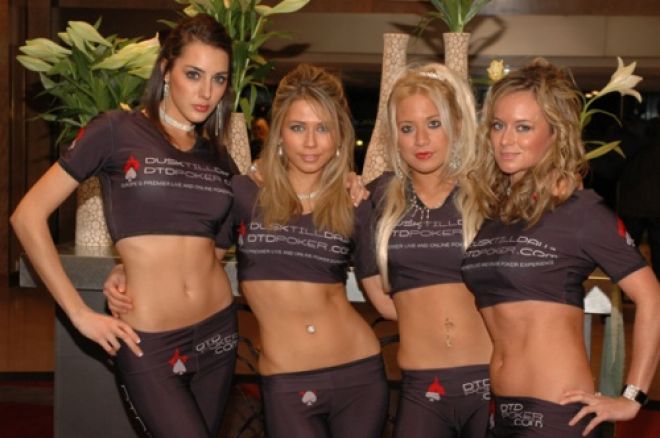 Every week I keep receiving "play dis, play dat!" online but most of it does not raise a second glance. Alas, I don't have the time to beat a trillion players although I would love to pass a few years trying.
Finding good news that smacks you in the face is fairly hard, but there is some good news if you look for it. Christmas is coming, that is fairly good news, and next week I get to go and play poker at the movie star premiere opening of Dusk Till Dawn. Adam O'Connell, the PR for DTD has sworn blind that there will be glamour (hopefully he means Dusk Till Dawn Girls) in abundance so I will jump into the Catmobile to taste this long awaited opening. Of course, all journalists in attendance will be drawn by the freeroll, not the girls.
I will have an advantage. One of my poker heroes, The Tony G, and his sensational sparring partner, Noah Boeken, have joined one of poker's superheroes, Jesse May, in presenting 'Winning Poker" on Channel 5. This is one of TV's first truly informative poker shows. I take that back, Poker Night Live was probably more informative as, after the first time I appeared, the comments in the forums were "Was Catman on Crack?"
All's Betfair in Poker
Party Poker's domination of terrestrial TV has continued, but this is the one to watch. Listen and learn; the two poker pro's have won trillions and Jesse "The Dude" May is leading them in his usual sensational, faultless style. Jesse May squeezes his co-hosts to divulge some sensational knowledge. Even if they are bluffing, I for one will follow their advice and, doubtless to say, come out a victor at the DTD Media Bash on 28th November 2007.
If there is a free lunch, a journalist might attend; if there is a free lunch and a poker game, it will take a Scandinavian harem to stop me for one. One such lunch was the launch of WSOP Europe sponsored by Betfair and what a lunch it was. There were games for a main event seat and places in various satellites.
With the likes of Thomas "Buzzer" Bihl, Channing, etc and a bunch of jornos playing, it wasn't a picnic in the park. In a post event article, I referred to one of poker's new heroes as a fish when he knocked me out of the event.
Well, that fish is now a major player. During the WSOP-E, there was an intense and ever mobile figure moving around like a darting lizard, in a Betfair Shirt. At every turn, I would see Bruce Stubbs; he would then magically disappear into the background. Bruce has just become Head of Poker for Betfair, a company thrusting forward in poker like no other. Betfair have launched a great blog, led by Ollie, their PR supreme. If you tune in, you can listen to Betfair Radio and the reasons why Bruce is now the Head of Poker. Do not take your eyes off this company, they are pressing down big time and with "Annette_15" in the team, they will prove a major force in offering the players what they want.
A Bounder and a Cad!
Last week, I played in the WSOB and backgammon is a game of skill. John Hurst, the runner-up and a man who had the style and class of Brunson, said to me after he came second; "Catman, I was very lucky". Now that is modest.
Unlike poker, you have got to have a very serious and deep understanding of the technical nature of the game if you are to win any event. Luck alone will never get you there. Just like poker, you need a good starting hand, a good throw of the dice will help, but even our double "God", Gus Hansen, got no further than "Poker Dog", Catman, but for very different reasons.
When Wild Bill Hickok made the first demonstration of wrong choice of seat position, with his back to the wall, he got shot. These days things have changed and I have sat down in a few more salubrious games with persons who in the real world might be considered rather dangerous. However, poker is a game of fair play by all who play. We have all sampled slowrolls, bad rulings and could easily have sat down at a game live or online where the opposition may have been more than you thought.
But who has ever played a game of poker with a man who blatantly, in your face, as if stealing candy from a blind man (or worse), has taken your winning hand and intentionally mucked it? So, with no reflection on backgammon players (I love 'em) and no reflection on WSOB - along with Partouche (they deserve unlimited success with their game, and they will have it), I got to meet the star hustler, "Zoran Sonofabitch".
This is a Yugoslavian player whose second name I will reveal in Poker News Magazine (but who gives a damn?), a reigning European champion, who had the good fortune to draw the biggest fish at The WSOB, Catman Donk Dice!
In brief, the dice are a bit like the flop or maybe even your hand. You roll 'em and that is the number you move. Picture this; Catdonk is down 9-0 in a 13-point game, then something has happened as the Cat has become Gus Hansen and got the score up to 12-8. I am playing the game as if I know how, then the magic moment comes, I have the cube, have doubled to 4 and am in a position to draw the game to 12-12. I toss the dice in the same fashion as always, out pops a double four, a roll that will give me a 30% massive edge or so on winning this huge game.
The dice lay on the felt and ZORAN SONOFABITCH coolly picks them up places them in his cup, and says "You roll the dice like this". What the ******!! I keep cool whilst muttering in Staccato, "I rolled a double, 4-4". We call for a ruling, the Zorro figure admits he picked my dice up and claims I had thrown a 2-1. If I had thrown a 2-1, I would have been delighted to roll again.
My question is this, I have now asked 42 top and rubbish backgammon players, "has anyone ever picked up your dice in this fashion?" The answer, a categorical "NO"!
Backgammon players! Unite and tell me if this is not absolute cheating. Zoran admitted he picked 'em up. Alas, no cameras were available to record the throw. Beat that if you can, answers and thought would be much appreciated.
That aside, backgammon is a great game, the players and event organiser were fantastic and this little fish just happened to walk into the biggest shark and got another great lesson in life. Never drop your guard, I say, NEVER!
Ranting ends, but it was so good!
Ed note: Get a MASSIVE $2000 bonus when you join PKR