Ladbrokes Poker Launch 3D Poker Software

Barry Carter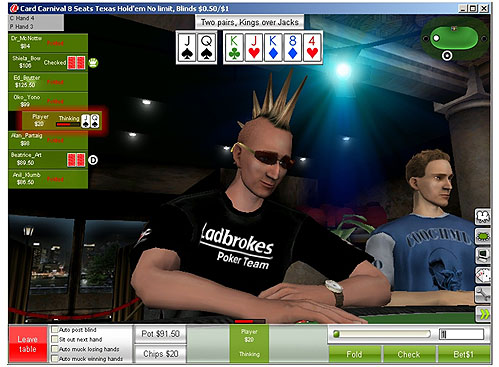 Ladbrokes Poker are about to get a major facelift with the announcement last week that they will be launching a 3D poker client. This new feature will enhance the player experience by allowing users to create a personalised avatar of themselves (or at least, how they would like to look) making for a more realistic encounter at the tables.
This new virtual reality interface, not unlike The Sims or Second Life will also allow players to replicate mannerisms found at the poker felt – such as riffling chips, taunting players and giving off 'tells' like scratching your nose. Quite whether you will be able to stand up, call your opponent a donkey and throw your pint over them is yet to be revealed!
Players can also chat for real with each other using VoIP (Voice over Internet Protocol) function, as well as the normal chat box, which should mean that the real trash talkers of the game could find their niche here. All of this has been developed by Playwize Plc, who are a leading developer for games on the Xbox and Playstation.
MD of Ladbrokes eGaming John O'Reilly comments: "This is a major step in the convergence of video gaming technology and online gaming and we're pleased to be the first leading poker site to go 'virtual'"
For those of you that don't really buy-in to all these extra enhancements, you will be pleased to know you have the option to play in the same format your always have on Ladbrokes Poker, which means the best of both worlds.
But for the rest of us that have secretly harboured ambitions to dress like James Bond at the table or showboat at the table with chip tricks we could never pull off in real life, Ladbrokes Poker appear to have the answer.