Joe Beevers Wins GBPT Final in Bristol

Barry Carter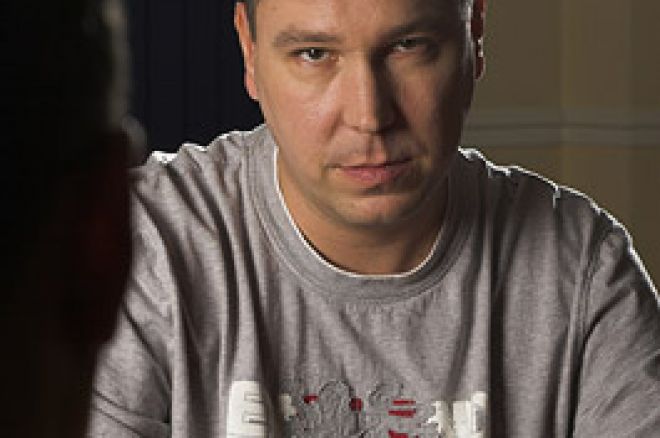 It could just as easily been an episode of Late Night Poker, the Best of British were really on show last night in Bristol. The £2500 main event of the Gala Great British Poker Tour attracted some big international (well, American) names including Phil Laak, Jamie Gold and Jennifer Tily. It was however, the cream of the British poker scene that made the final table, which started the day thusly:
Seat 1: Charalambos 'Bambos' Xanthos — 205.5k
Seat 2: Manuel Palanca — 203.9k
Seat 3: Rob Akery — 146.6k
Seat 4: Roland De Wolfe — 315.4k
Seat 5: Barny Boatman — 114.1k
Seat 6: Matt Tyler — 162.7k
Seat 7: Neil Channing — 166.2k
Seat 8: Joe Beevers — 185.8k
It will almost certainly make for a great show when it is aired on ITV. We have two of the Hendon Mob, two of the most successful cash game players in Britain (In Channing and Bambos) and one of the most decorated tournament players in De Wolfe. Add to the mix the lively banter of Matt Tyler and a slightly more unknown quantity in Palanca and Akery. Not only were titles and cash on the line but seats to some of the biggest tournaments in the world as added incentive.
Many would be surprised that a major final table was being played at all, such was the relaxed banter at the table. Matt Tyler, for those that don't know him, is one of the great table talkers in the game and was keeping the rail entertained with his jovial chatter. Between hands, he, Roland and Neil Channing were playing the 'Next line' game from Never Mind the Buzzcocks - Channing dominating throughout, we are unsure if there was any money on it.
He didn't dominate the poker, though, as he was the first player to bust after slow playing a pair of jacks after De Wolfe uncharacteristically limped. The board paired fives which allowed Bambos to take Channing out with his five-deuce. Bambos soon added to his big stack when Matt Tyler shoved all in with Ace-Ten against his pocket Aces – no miracle cards for Tyler and he was out in 7th place.
Joe Beevers and Manuel Palanca got into the inevitable poker classic, pocket queens against Ace King. Beevers held the Queens which developed into quads on the turn and river and Palanca was out in 6th place. Soon his stable mate Barny Boatman was also on the right side of the deck when he got all his money in against De Wolfe. Roland held 7-4 and Boatman had King-three – both men were short stacked and making moves from the blinds – the high card held and De Wolfe was out in 5th (And may well have secured the UK player of the year race with this finish).
The blinds were taking over at this point and the previously dominant Bambos found himself shoving with Jack-Nine, which was quickly called by Rob Akery with pocket jacks. A nine flopped to give Bambos a glimmer of hope, but no help thereafter and he was out in 4th spot. This left Akery with the unenviable task of playing three handed against two Hendon Mobsters, one of whom (Beevers) held the majority of chips in play.
On a king-queen-two flop, Barny gets all his money in holding King-Five and is quickly called by Akery holding King-Queen. The mobster was out in third place leaving his buddy Joe heads up with Akery. Not only did Boatman take home £36,000 but he also gets a seat in the EPT tournament of his choice.
The final hand of the evening saw a board of

-

-

-

. Beevers bet the turn and Akery moved all in, Joe called. Beevers held

-

for two pair and Akery showed

-

for both a straight and flush draw. The river was a cruel

which gave Akery his flush but Beevers a winning full house. Joe Beevers is the GBPT Main Event Champion winning £87,500 and a seat in the Five Diamond World Classic. Akery also takes home £53,250 and a seat in the Aussie Millions.
The final table paid out as follows:
1st — Joe Beevers £87,500 and seat in the Five Diamond World Classic
2nd – Rob Akery £53,250 and seat in the Aussie Millions
3rd — Barny Boatman £36,500 and seat in EPT Tournament of choice
4th — Charalambos 'Bambos' Xanthos £22,250 and seat in 2008 GBPT Festival of choice
5th — Roland De Wolfe £16,000 and seat in 2008 GBPT Festival of choice
6th — Manuel Palanca £11,000
7th — Matt Tyler £9,250
8th — Neil Channing £8,000
Ed note: Joe Beevers is part of Team Full Tilt Poker - join today for a big $600 bonus