Ladies and Scalp Events Join Irish Open Festival

Barry Carter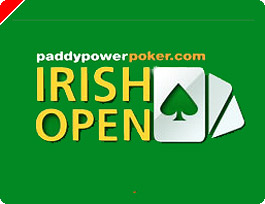 In just a few short years the Paddy Power Poker Irish Open has developed into one of the biggest and most prestigious tournaments on the European trail. Not only does it look to be one of the richest tournaments in Europe next year with the increased buy-in and field size potential – it has added a number of exciting looking side events.
For the first time, there will be an Open Ladies Event. A €330 no limit hold'em freezeout event on Good Friday. Nikki Newman of Paddy Power Poker commented: "I am very excited about it. I have always felt something of a personal compunction to help bring more women into the game. Colette Doherty, Irene Tier and Jenny Heggerty, showed us just how much power there is in the Irish ladies game. So what better backdrop could there be for a ladies poker event than the Irish Open itself!"
Not only this but we also have a €1,500 No Limit Freezeout and €400 PLO Rebuy side event. The final side event, however, is something a little special. It will be a No Limit Hold'em Double Chance Scalp event on Easter Monday. It works like any other Double Chance freezeout with an extra incentive, every player has a €30 'scalp' on their head and when you bust them, they have to give you their 'scalp' chip.
The buy-in is therefore €270+€30+€30 (30 for the registration and 30 for the scalp chip). This means you get 10% of your buy-in back for every player you felt and could feasibly make your money back or even a profit without even making the money. This will surely make the game so much more aggressive (which isn't usually a problem in Ireland anyway) and could be a big crowd pleaser.
The full event for the Irish Open is as follows:
19th March Main Event Super Satellite €300+€30
20th March Irish Open Main Event Day 1A€4,200+€300
21st March Irish Open Main Event Day 1B€4,200+€300
21st March Irish Open Ladies NLH Freezeout €300+€30
22nd March €1,500 NLH Freezeout (2 day event) €1,500+€150
23rd March PL Omaha Rebuy €400+€40
24th March NLH Double Chance Scalp €270+€30+€30
Ed Note: Get scalping players now and qualify for the Irish Open only at Paddy Power Poker