High Stakes Poker is Back with $500,000 Minimum Buy-ins

Barry Carter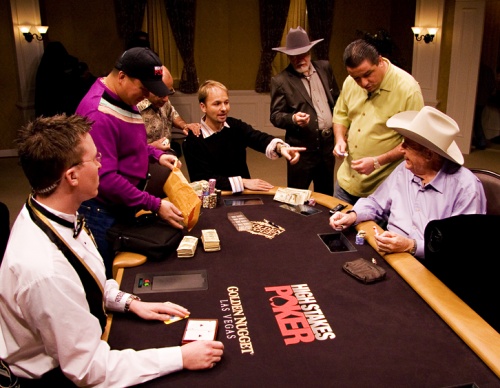 Normally, as a UK web site, we wouldn't dream of reporting on American TV listings. Nothing would seem further from relevant news wise. However, when it comes to the worlds best poker show, High Stakes Poker, we know that 99% of the UK poker community are straight on to YouTube first thing on Tuesday morning to get their fix!
It seems like an eternity since Gus Hansen and Daniel Negreanu contested the biggest pot in televised poker history. Hansen held pocket fives against Negreanu's pocket sixes. Hansen caught quad fives on the turn and Daniel made a full house. The pot was worth $575,000 and not many dreamed there would a bigger score seen on TV for a very long time.
But that is almost destined to change in the next week or so. That is because the buy-in from this point on is going to be a minimum of $500,000 (the previous being $100,000). This is not for the feint hearted and it could be just a matter of episodes before we see a million dollar pot. The shows have already been filmed but everyone has been exceptionally tight lipped about the proceedings.
The opening show, from this point on, features something of a railbirds dream. Patrik Antonius, Doyle Brunson, Jamie Gold, Daniel Negreanu, Antonio Esfandiari, Barry Greenstein and Sam Farha are all stumping up half a million. There will be $5 million on the table at any one time and Brunson has admitted that most of the players will be playing way above their bankroll.
The wildcard in the pack is millionaire businessman Guy Laliberte, the co founder of Cirque du Soleil. Guy is a recreational player who would normally be at a disadvantage against this table of professionals however, as Brunson put it, he is the only person at the table who can actually truly afford to play at these stakes. Laliberte has pledged to give any winnings to charity.
The current series has already been hugely entertaining. We've seen Phil Hellmuth cast off the demons of the previous series and put on an excellent performance, as has Jamie Gold who was one of the big losers in the last series. The crazy 7-2 game has proved a massive hit and will no doubt be replicated in card rooms across the world and the witty banter of Gabe Kaplan in the commentary box was superb as always.
One thing is for sure, we are about to see one of the most intense and sickest cash games of all time. The next show airs on Monday night in America and will be available online early on Tuesday morning.
Ed note: You don't need to be a high stakes player to get a huge deposit bonus at Poker Heaven