UK PokerNews Exclusive: Dusk Till Dawn Review

Barry Carter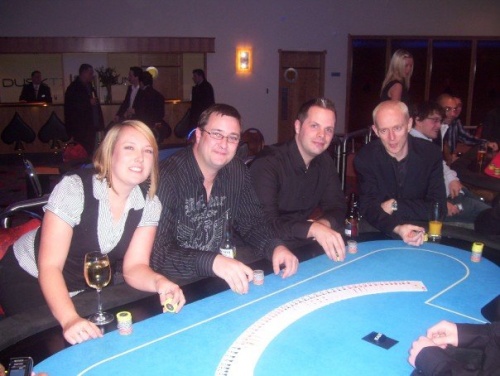 Two years after first hearing about a poker only club in the UK, I finally walked through the doors of Dusk Till Dawn last night. Words cannot describe the goose pimples I experienced and I felt a strange sense of excitement that I haven't felt since I was a kid who realises Christmas is just a few days away.
Last night was the official Media launch night of the Nottingham poker club, with a select group of pros, journalists and freeloaders come to play a few hands and make use of the free bar. The most immediate thing that strikes you is the sheer size of the place; it seems at least 3 times bigger than the websites photos suggest and a lot fancier.
The gaming floor is huge and perfectly catered for the poker player. The tables have plenty of space for drinks and there is more than enough room between tables (and often overlooked quality in a card room). The decor is slick and modern, even the overhead tournament screens are the highest quality HD monitors.
I now have a pretty impressive claim to fame too; I am the first person ever to bust out of a Dusk Till Dawn tournament. We were playing in a free roll event and I lasted all but two hands, getting kings cracked by Dave Colclough's Jack Eight, then getting two pair run into a set. Make a note of this people, as one day it may be a pub quiz question.
Despite the GUKPT grand final taking place as we speak, a great number of pros made it out to watch the ribbon being cut. Dave Colcough, Julian Thew, Tony Kendall, Paul Zimbler and Paul Jackson were all amongst the friends and well wishers last night. All of whom looked suitably chuffed for their buddy Rob Yong as he invited his mother up to cut the ribbon and declare Dusk Till Dawn officially open.
We stuck around well into the night and sampled some of the cash game and sit and go action on offer. Starting at £22, the sit and goes were very well ran and I think will be very popular here, at least with the locals. Myself and Pokernews Magazine Editor Mel Lofthouse sat down against a bunch of local boys (whom we think might have helped build the club) and I came 2nd to Mel's 1st in that one, which was a good omen for Team Pokernews at DTD.
Even little things like the plush smoking enclosure, the internet booths and the VIP room with its tinted black windows were impressive. The toilets smelt like a bakery – I know that's an unusual note to sign off on but even the toilets had a pleasant smell to them.
I'm sticking around in Nottingham today for the first day proper and the £100 freeze out. I know it's sad but I will be there at bang on six o'clock when it opens and I can't wait to see how it operates in full swing. At this point I would officially like to apologise to my girlfriend in advance – as she will probably be seeing a lot less of me from now on
Ed note: Play exciting poker online at Everest Poker