DTD Preview Their Opening on New Web Site

Barry Carter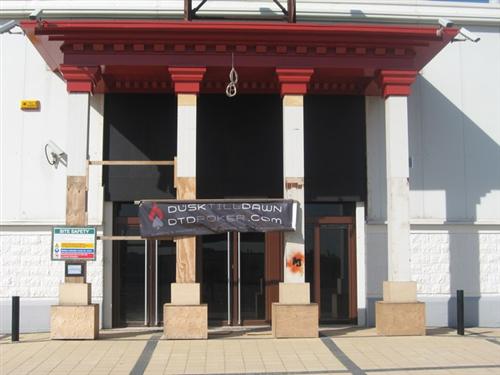 One of the most eagerly awaited days on the UK poker calendar surely has to be the opening of Dusk Till Dawn, Europe's first licensed poker club in Nottingham. With the doors opening for the first time at the end of the month for an invite only weekend of poker, the DTD crew have wet our appetite by launching the official website for the live club, which gives a great insight into what to expect.
From the opening night, the opening hours will be 6pm until 4pm, Thursday to Sunday. The plan is to gradually increase both the opening times and number of days as the demand for the club develops. There will be a dress code for the club, which consists of no shorts, tracksuits, sports trainers or t-shirts (Polo shirts are fine).
The facilities leave very little to be desired. 45 poker tables and a special high roller table in the VIP section. 24 plasma screens with sky sports and tournament clocks. A fully licensed bar and restaurant with internet poker booths. A fully sheltered and heated outdoor smoking enclosure for maximum comfort and the potential to cater for corporate events.
Moving your money around should be stress free, all players who register their bank cards with the club will have a depositing account created, making withdrawals and deposits easy. There is also the option to pregister for certain competitions via your online card room account with the club.
The current regular tournament schedule looks like a £55 freeze out on Thursdays, £110 freeze outs on Friday and Saturdays and a £220 freeze out on Sundays. All with 5000 starting chips and 30 minute clocks. Single table tournaments will also run on demand, with payout and blind structures that closely resemble that which is found online. The buy-ins range from £20-£1000. Cash games start from 25p/50p with a minimum buy-in of £20 with limits potentially up to £25/50.
Team Pokernews will be having a few shandies in Nottingham for the opening weekend of Dusk Till Dawn. If this is anything to go by, they will probably have to throw us out to get rid of us!
Ed note: You don't need to venture out to Nottingham for exciting poker action. Try the games at Mansion Poker for great poker fun!