Doyle Brunson in $800,000 Televised Pot

Barry Carter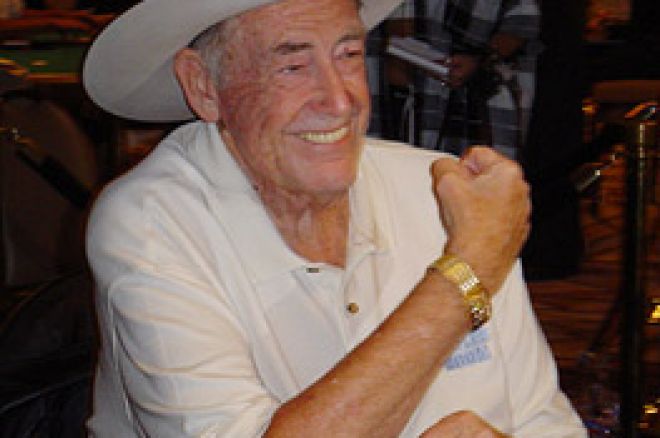 Well it finally happened, put $5 million on the table and eventually we would end up with a record breaking pot. At first the High Stakes Poker $500,000 buy-in game looked like it could be a non event, it seemed the pros were suddenly playing a lot tighter than we have come to know them. The teaser trailer that showed Patrik Antonius and Jamie Gold announcing 'all-in' and 'call' turned out to be a $750,000 pot, but eventually became a split pot after they agreed to run it three times.
Jamie Gold was doing his bit to generate a lot of action, but even Sammy Farha seemed to be a little gun-shy with the huge sums on the table, as we saw when he chose not to value bet his aces on the river against Gold. He also managed to (impressively) get away from a set when David Benyamine held no less than a straight flush – if there is anyone in the World you'd want to have a set to your straight flush it would be Sammy.
So it was small ball poker all the way, even action junkies like Antonius and Antonio Esfandiari were barely noticeable at times, as was poker legend Doyle Brunson. Then, towards the end of last night's show a seemingly irrelevant side conversation may have sparked the biggest pot in televised poker history. Gold was getting ready to leave and discussed a pot he took off Brunson the previous day; Brunson laid down a ten high flush to Gold who held a nine high flush.
But then, a very inactive Brunson raised to $11,000 with Ad-Td and got four callers to the flop of Ac-Js-4d. Brunson bet $40,000 and Cirque du Soleil billionaire Guy Laliberté called with Ah-5h.
The turn brought a 2d, giving Brunson a flush draw and Laliberté a gutshot straight draw to go with their top pair. Brunson bet $110,000 and Laliberté reraised to $310,000, putting Doyle all-in, which he did.
When Doyle turned over his hand first Jamie Gold commented 'you've got outs' – Jamie, like the rest of the table assumed that Doyle was behind, rather than the dominant favourite he actually was. Both men agreed to run the hand twice and with no help to Guy either time, the Godfather of poker rather fittingly won the biggest pot in TV history, over $800,000.
The biggest pot prior to that was the Negreanu-Hansen, Full-house vs. Quads hand that is now part of poker folklore. Nobody expected the biggest cash hand in history to be a pair of aces with a ten kicker but as Doyle said "When you don't make a pair for eight hours, you go crazy." He also commented that upon hearing Gold tell him he laid down the best hand the day earlier it put him on tilt – which is probably why he played the hand so fast in the first place.
Even a poker legend like Brunson looked nervous and excited when the river card was being dealt, and afterwards he looked like the cat that go the cream for the remainder of the show. Whether this will lead to a $1 million buy in show for future series is yet to be seen, but for me I think it's more interesting to see the players play within their comfort zones and playing at the top of their game.
Ed note: Get involved in some cash action online at Poker Heaven