Dealers Choice Pulls the Trigger!

Catman - The Poker Agent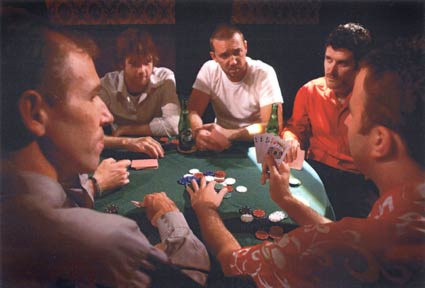 After spending the last few weeks immersed at the deep end of poker - well, pretty deep - I jumped in joy when the offer arrived to see the resurrection of Patric Marber's play, "Dealers Choice".
If you are quick, you can see poker superstar, Ross Boatman of The Hendon Mob, pulling the leg of "Trigger" alias Roger Lloyd Pack. Trigger was one of the star characters in one of British TV's greatest comedies, "Only Fools and Horses" and Ross is a part of the historical poker superstars "The Mob" and a passionate actor. The play runs to 17th November 2007 at the Menier Chocolate Factory, a venue run by the charming poker-playing artistic director David Babani. It stinks of atmosphere and sells lovely grub too. Trust me, go quick, but don't take the girlfriend. If you have a boyfriend, take him and you will induce a new respect. This is a game that defines the early days of smoky home games, this one coming across a lot tougher than most.
Patrick Marber is an Oscar-nominated playwright - or was it an Oscar-nominated poker player? - and the play "Dealers Choice" was his debut play in 1995. Now hidden deep in the intellectual mind of those who regularly watch and review plays, "Dealers Choice" is a story of a play about fathers and sons and the emotional deficiencies of men prey to ungovernable obsession. But let's forget all that intellectual balderdash, the game is quite simply a must-see for any poker player.
The story is simple. Stephen is a reserved restaurateur and his slightly rogue son, Carl, owes "Four Large" to a professional gambler, as most of us do. When Carl invites hardened pro Ash to join his dad's weekly poker school in the hope of cancelling his debts, battle is joined between his pompous father and surrogate father (Trigger). Chef-cum-weekend father Frankie (alias Ross Boatman) is ready to gamble away money meant for his daughter and another waiter has finally saved enough cash to go pro in Vegas, so it is clear that this is a school comprised of right naughty pupils.
The dialogue is quick, sharp and extremely funny (quoting Ross and he is right). The table banter is spot on and half these characters would knock spots off Mike Matusow or The Rain Man Khan in the personality stakes and rubdown departments. God, I adore the Rain Man. I can't stand the theatre myself but I remained glued in my seat thinking would I ever be able to handle a game like this? You will love or at least have total empathy for each character.
Every game is a lesson and this play provides plenty to think about:
"I thought I could smell something"; "What can you smell?"; "FEAR!"
"Poker without gambling is like sex without an orgasm."
Yardley: "Poker is chess without money."
Mugsy: "At least I am a good loser, I am staying till the end" Retort: "That is why you are a loser!"
"Play the man, not the cards."
Mugsy just lost the bag of sand he was lent: "It's no fun, if you don't lose"
"The object of the game is to win, if you don't suffer, you don't improve."
This play is about winners and losers but as we all know the winners are often more complex and occasionally unhappier than the losing majority. So the debate goes on, how many winners are out there playing poker? Are we all obsessed masochistic gambling addicts? Who am I to argue? Poker is a game of pain for the millions who relish in the thrill of living a little before death. Surely that is all part of the fun.
When the marketers of a certain cigarette brand wanted to further entice their government backed cancer sticks, they created a skull and cross bones logo, on top of a coffin, and this packaging sent sales to young kids booming, until eventually the packaging was banned. Sex, Drugs and Rock and Roll, followed closely by our beloved games. Poker addicts or Telly Addicts, chose your poison, learn it, live it and love it.
Another great feature is that the play has been presented with an association to Purple Lounge Poker, it has obviously worked well. Now all we have got to do is to bring in outside sponsors to poker events.
After the game I grabbed Ross Boatman and the sensational "Trigger".
"Ross, I have never been to a game like that, you are a psycho in this play." I politely commented. "Catman, Barny and I used to live in games just like that one!"
I love poker and its players are very special too.
Ed note: There is a massive $1000 bonus for new players at Purple Lounge Poker