WSOB, Sex Stories and God

Catman - The Poker Agent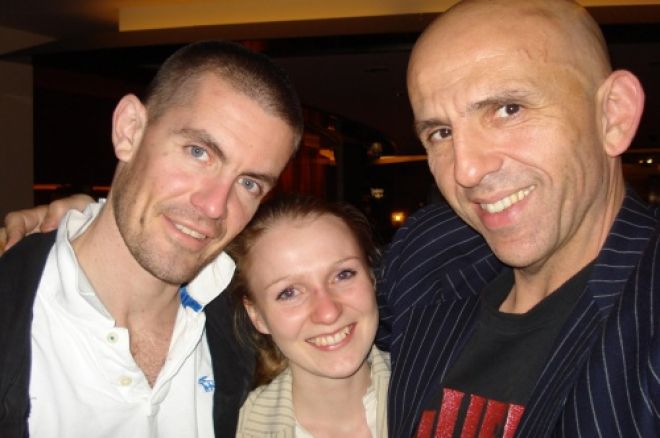 The Casino at the Empire, Leicester Square, holds some very special memories for me, having sat with the world's very best, playing the HORSE event at WSOP Europe, sponsored by Betfair. Now, I am about to play in The WSOB – yes, The World Series of Backgammon!
A series of three prestigious events commencing with the UK Masters on 15th to18th November at The Casino at the Empire, featuring the best 120 Backgammon players the UK and most of the world has to muster and, believe me, it is another world.
Prior to leaving the CatPalace, The Catgirl asked me whether she should dress up, cleavage or no cleavage. I said "however you wish, you might be in a couple of pictures", so she naturally chose the no cleavage option. Of course, I was bearing in mind we were about to spend some time with Gus Hansen, the man voted "One of the world's sexiest" by the giant American showbiz magazine "People".
We arrived at the Empire to be greeted by the delightful Colin Hunt, the UK Poker Manager for London Clubs International and a man with a real understanding and empathy for our game. Beyond that he bought the Catgirl and me a round of diet cokes and calmed my nerves prior to my lesson with "God". After discussing poker, poker and more poker, we took a deep breath and wandered off to meet the organisers of The WSOB and, of course, scoff lots of lovely sushi.
Eric Guedj is one of the team behind the WSOB, a backgammon and poker player who is also an executive officer with Partouche. What an amazing name, "Partouche"! Even more amazing is that Partouche owns 53 casinos along with 45 associated cards rooms. Can you imagine taking a tour across 45 French card clubs? I speak "Franglais", love the French and their food and, boy, do they like a punt in a poker game. If we are very lucky we may well see some serious action from Partouche who presently present Backgammon tours. Trust me, if a French casino group put on a touring poker event, it would be stylish and elegant. Think Chateau Mouton Rothschild '86 and you will know what I mean, won't you?
Backgammon and poker, the debate goes on, which is more skilful? Well. at this present moment, coming from a man who has done his time on the poker tables and loves the game like a vampire loves blood, backgammon is "show show" (more slang for you to research).
I have played on the beach; never a thought in my head about duplications, diversification, prime/back games and the crush. Oh yeah! Backgammon is a game you will adore. It is tailor made for a poker player's holiday. We love poker as it is so mind-consuming, but in a gentle and pleasant way, backgammon is quite like a proverbial rocket up the cerebral Khyber Pass and with no "All-in" escape clause.
Picture this, Mr "Moderately Respected By Most Who Have Crossed His Path" Catman sits facing Hannah Nilsson, a very foxy Norwegian backgammon goddess. I had challenged her for the statutory heads up for a fiver. Normal stakes at this level are way higher of course; "How many points we playing for, PussyCat?" she purred. What? I have never been called PussyCat by anyone! She was getting me on tilt before the game even started. After losing my fiver, Hannah gleefully rubbed me down a little further, "I am here all week, let's play, and I will crush you again and again!" Oh yes baby, backgammon was looking like fun and it had a sexy feel about it.
The WSOB has a formidable team of backgammon aficionados behind it including Andy Sergeant of Gammonitis and Andy Bell, the executive producer. Bring in the big gun, John Clarke, UK's long-standing number one pro and TV presenter for the World Series of Backgammon. John deserves to have a book written on him; there are probably a fair few out there. As a martial arts student, I will deeply bow to Sensei (Master) John.
So along comes "God", yep, Gus Hansen is referred to as "God" by backgammon players and officials. He is a poker god in my eyes, achieving everything you could want and playing high stakes like no other, period.
Gus is in London to provide commentary for this event and of course stimulate interest in the WSOB. The event is televised and going out on Eurosport. With ESPN looking at the second series, Gus is simply hilarious and will make it doubly worth tuning in for.
"Gus, how does it feel to be referred to as a God of both poker and backgammon?" I asked. "Catman, it is a little hard, as I am an atheist."
This was the start of a great interview, the man is diamond but, along with four other top pros, he has one quite natural weakness. "Catman I really do love Pussy (did he mean to say Cats?), never done drugs, she's my drug.", as he pointed to the Catgirl. "I love girls, I love gambling, sports, my family."
The Catgirl seems to have some very powerful effect on superstar poker players and, for some reason, I, a man who has played the role of minder to Nigel Benn, the double Super Middleweight Boxing Champion, seem to become an invisible option, who will indeed not crush them. Work that little riddle out if you can.
Poker players must sample backgammon, it is exquisite, mind blowing and all the foxy aggression you can handle. Did I say that the players are not in fact aliens that we once thought they were, but a fantastic, friendly and bloomin' competitive bunch.
Games start at 20.00 on Thursday, following rounds in Copenhagen and Cannes.
Footnote to Hannah: "I will crush you this Thursday!" Players are praying for the Catman in the first round of WSOB, for backgammon, unlike poker, will not see a novice with a good chance to win.
Ed note: Poker players who join PartyPoker can also enjoy PartyGammon online too, Party's very own Backgammon site