UK PokerNews Exclusive: Interview with Online Poker Star 'Allinstevie'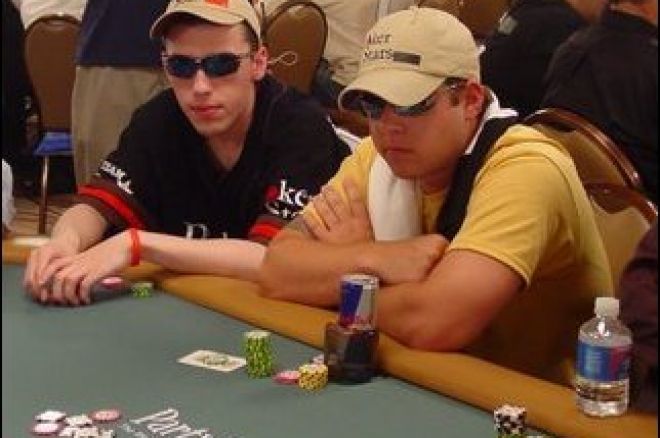 Who needs the luck of the Irish when you're as good as new UK online MTT maestro Stephen Devlin. The former trainee financial advisor definitely knows his numbers as he's taken down several major online tournaments in the past year and made numerous cashes for well over $15k.
Not bad for someone only playing in his spare time!
With that said it's no wonder that in the last month this young gun from Omagh has decided to trade in his job in finance and make poker his fulltime profession. While this might be bad news for those wanting to stay atop of the UK rankings, Stephen's rise to the top is sure sign that the UK poker scene is growing stronger than ever. Indeed, there seems to be no doubting the fact that the UK online players are quickly becoming a force to be reckoned with across the virtual baize.
So what's it like going from boardroom to poker room in such a short space of time? I had the chance to find out.
UKPN: I understand that you've just made the decision to take up poker full time, but how did you get started in the game?
AIS: I've been playing some form of card games since I was a child and there was a natural transition into poker as I got older. At first I started playing home games around the age 15 with friends but back then we played various dealer's choice games as NL HE hadn't become popular yet. As NLHE became popular, with the TV poker boom, my mates and I started going to the local tournaments around the town where we lived and this eventually led to me playing online.
UKPN: Did you ever think when you stated playing that you would be able to give up your job and play full time?
AIS: No, definitely not. I've always had a real passion for the game but when I first started playing poker it was more for the social aspect of the game than anything else. I was also drawn to the competition which poker offers.
UKPN: After playing part-time but still consistently winning tourneys online what finally influenced you to turn "pro"?
AIS: I was quite happy with my working arrangements but the main reason I eventually gave up my regular job was because I was limited to how many live events I could play. Because I only got so many holidays a year it was becoming difficult to play a lot of big events. Also I was getting kinda fed up with 8am starts .
UKPN: The top UK online players are starting to become a formidable force in the plb rankings. What motivates you more, climbing up the leader board or the financial rewards from winning a tournament?
AIS: To be honest it's probably a bit of both. It's nice to see yourself moving up the rankings but it's probably more rewarding to be able to earn a living playing a game you enjoy. There's a friendly rivalry going on between stevie444, Moorman1 and myself with regards the rankings because it's quite close between the three of us. We're always talking to each other and railing each other on final tables etc so it's all good fun.
UKPN: What's the poker scene in Ireland like? Is there a strong online contingent playing online?
AIS: Poker in Ireland is really taking off at the minute, especially in the south with casinos and card rooms springing up all over the place. With regards to online poker there are maybe three or four really good players coming out of Ireland who I regularly see doing well for themselves.
UKPN: How do you prepare yourself for a full schedule of online MTTs? Are there any set routines that you go through?
AIS: To be honest because I've only been playing fulltime for a month or so now, so I don't really have any routines in place yet. Because of the nature of online poker it involves a lot of really late nights in order to play all of the big buy-in American tournaments. At the moment it's a case of roll out of bed about 5pm, get washed up and fix a bite to eat and then get grinding. However, I know I'm going to have to incorporate a daily exercise routine into my day ASAP before I get completely out of shape.
UKPN: How would you classify your style of play?
AIS: I play a quite patient style but obviously change gears constantly, depending on how my table is playing.
UKPN: Do you have a favourite hand? Why?
AIS: I'm a big fan of suited connectors especially in the early stages of tournaments because of the simple fact that you really know where you are with them. You're in the hand to hit a flop hard and if you don't you can easily fold. For example, if you simply flop top pair on the flop you generally have a much easier decision than if you get re-raised and have to consider folding pocket jacks on a dry 8 high flop.
UKPN: Your biggest cashes online so far have come in two of the major online Sunday tournaments. How did it feel to not only win such a large amount of money but to also come first in some of the largest and toughest tourneys on the Internet?
AIS: Well, all my really big wins came when I was still working, so the first thing that came to mind was, "wow, I've just won like two years wages in 1 tournament!!" It also makes you feel good about your abilities knowing you've gone deep and ultimately closed some of the biggest and toughest tournaments available online.
UKPN: Are you focused mainly on holdem or do you play any other poker variants?
AIS: Yeah, I only really play holdem at present, but I have tried all the games at one stage or another. To be honest there's just not enough motivation to try and get really good at the mixed games because everybody's playing holdem at the moment.
UKPN: Rank in order, most to least, these reasons you love being a poker pro:
1 Money- the chance to win a million
2 The chance to become a recognised figure
3 The competition- the challenge of consistently proving yourself
4 Being your own boss- not having to get up at 7.30
5 The chance to do something you love every day
AIS:
1 The chance to do something you love every day
2 Being your own boss- not having to get up at 7.30
3 The competition- the challenge of consistently proving yourself
4 Money- the chance to win a million
5 The chance to become a recognised figure
UKPN: Which players do you respect the most and who don't you want to see sitting to your left when you're playing online?
AIS: Definitely some of the top LAG players like lilholdem and imperium. The more tag players won't give you as much problems because they'll not be playing back at you all the time.
UKPN: How much money would it take for you give up poker for good?
AIS: Ha ha! A hell of a lot.
UKPN: You're hosting a fantasy home game, who's invited and why?
AIS:
Phil Hellmuth - so I can suck out on him and get berated.
Daniel Negreanu – because: he reads the game so well.
Roy Keane – because: he's a legend.
Steve Davis – because: I used to be pretty big into the snooker and I know he plays poker quite a bit now.
Billy Connolly - To keep us all entertained
UKPN: What would your advice be for someone wanting to take up poker fulltime?
AIS: For anybody seriously considering this, I'd advise having at least one year's living expenses saved up, not including your poker playing bankroll. Also you need to be disciplined enough to always be playing within your bankroll and have good tilt control, because invariably you're going have long losing streaks.
Ed note: Take on the biggest tournaments and become a star when you play at Mansion Poker