'TheV0id' Wins WCOOP Main Event

Barry Carter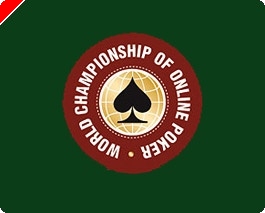 Pokerstars capped a hugely successful World Championships of Online Poker (WCOOP) with a record breaking main event, and it was a UK player that took down the biggest online prize of all time. Two and a half weeks and over $24 million in prizes over 23 events led to a cool $1.2 million for UK player TheV0id.
The WCOOP this year have been massive, both financially and structurally. Some of the events have been lasting 16 hours plus and with 30 minute levels there was room for a lot of play throughout. WSOP Champion Greg Raymer made a little history by winning the Omaha Rebuy bracelet and London EPT Champion John Shipley made the final table of the $1050 No Limit Hold'em event last Sunday.
The $2,600 Main Event, which was won by prolific American player JC Tran last year, attracted 2998 entrants this time round, making a $7.5 million prize pool. The event was once again a lengthy affair, lasting just under 22 hours. This may lead Pokerstars to consider the approach taken by Full Tilt in the FTSOPs this year of having a 2 day Main Event for next years WCOOP.
Once again a big name made it to the final and looked in very good shape to win the event, Vanessa 'LadyMaverick' Rousso, a member of Team Pokerstars, has a fantastic late surge in the tournament and finished in 3rd place for $463,000. All but one player made at least $100,000 at the final table and the last two spots had won over $2 million between them.
The final two players were TheV0id and ka$ino. They agreed a chop deal that gave an extra $150,000 for second place and were fighting for a $1.2 million for first prize. Both players were evenly matched in chips and took it in turns to take the chip lead. Eventually TheV0id took the title down when he pushed all-in with King-Queen and was called by Ace-King. A cruel river gave TheV0id a king high straight and the WCOOP Bracelet.
TheV0id is listed on Pokerstars as being from Monte Carlo, however it has been revealed that he or she is actually a UK player. This was their first ever tournament on Pokerstars and is now showing an impressive 52913% Return on Investment on poker data-mining web sites.
The poker forums are now beginning to speculate who TheV0id actually is. Many took the Monte Carlo tag on his Avatar to infer it might be Gus Hansen, however others thought it was actually Andy Black. Now the heavy speculation is that account belongs to the sister of EPT champion Mark Teltscher. Whoever it is one thing is for sure, the drinks are on TheV0id!
[I] Ed Note: Get your practice in for next years WCOOP at Pokerstars