Marcus Bebb-Jones Triumphs in Walsall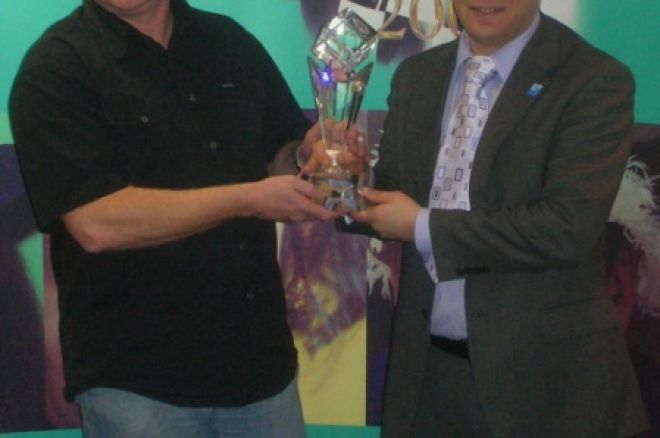 The unique Grosvenor Grand Prix returned to Walsall last weekend to prove that Pot Limit Hold'em is not a dying discipline in UK Cardrooms. Following the success of the debut season of the Grosvenor UK Poker Tour, a full roster of 216 players qualified for the event which was last year won by Zahir 'Zippy' Aslam.
The Grand Prix has two elements that make it distinct from the rest of the tournaments on the UK circuit. First of all it is a Pot Limit Hold'em tournament, which are becoming a rare commodity in todays No Limit World. The other is that every player involved qualified for the event via a live or online satellite, rather than buying in directly.
But this didn't put off some of the best players in the country going down the satellite route and the likes of Paul Jackson, Michael Greco, Lucy Rokach, Stuart Fox and Ash Hussein all won their way to the event, rather than buy-in.
For all the online entries and big name players, the final table actually looked like any other in Walsall, with a bunch of hometown heroes in attendance; Marcus Bebb-Jones, Vince Maden, Antony Kennedy, Ashfaq Ahmed and Amrad Patel all hailing from just a short drive away from the Grosvenor Casino. Before the first cards were dealt a deal amongst the nine finalists was struck where they took 20k from the top three spots and redistributed it amongst all the final placings. After which the following players were left to fight it out:
Amrat Patel – 366,500
Jeff Burke – 333,500
Paul Rogers – 2975,000
Richard Simmonds – 293,000
Antony Kennedy – 278,000
Ashfag Ahmed – 200,000
Ved Madan – 142,000
Marcus Bebb-Jones – 137,000
Paul Vicary – 114,000
Marcus Bebb-Jones went from short stack to chip leader in a one man busting spree, taking out Vicary, Patel and Burke in 7th, 6th and 5th respectively. Ashfaq Ahmed soon followed and Bebb-Jones held more than 50% of the chips in play against Paul Rodgers and Richard Simmonds. Rodgers eliminated Simmonds soon after and it was almost evens going into the heads up match.
Thirty minutes later Bebb-Jones was crowned the Pot Limit Champion when his Ace-Queen dominated Ace-Seven on an Ace-Queen-Nine flop. He took £90,000 and the title and proved that Pot Limit Hold'em is still very much a big game on these shores
Ed note: Win big offline tournament like Marcus Bebb-Jones when you qualify online at Full Tilt Poker