UK Online Poker Rankings Update

Barry Carter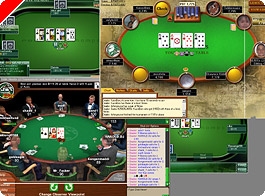 Back in August we brought you news of the UK Online Poker Rankings. Like the live counterpart, this is a top ten of the most successful MTT players in the United Kingdom. At the time Stephen allinstevie Devlin was sat at the top after a string of major results on Pokerstars.
A few months on and there have been some major movers and shakers in the online world. The first noticeable change is that mavfish aka JP Kelly, has now slipped out of the top ten. He has been replaced with an unknown Scottish player called xxCelticFCxx.
HimClip85, a player who has had several big results in the Sunday Million, has recently seen a dip in form which has resulted in him dropping down from 4th to 5th. allinstevie is now down to 3rd after a similarly quiet couple of months.
Chris moorman1 Moorman is still in 2nd place after a strong and consistent performance all year. moorman1 won over $70,000 in September and has took more than $40,000 on Full Tilt Poker alone this month, having won a $150 MTT as recently as two days ago for $18,750.
But it is his namesake that has knocked allinstevie from the top spot. [I]Stevie444 aka Stephen Chidwick from Kent. The 18 year old is currently 33rd in the overall world rankings too. The sheer consistency of his results is what has got him that far, but he has some major cashes too. He came 2nd this month in the $1000 Super Tuesday on Pokerstars for $48,000 and 2nd in $109 rebuy for $28,000 in September.
One might think that the UK's top MTT players should sit higher than 33rd in the overall rankings. However, it is very important to remember that the vast majority of the major online tournaments take place at times to suit the American players, as that is where 75% of the traffic comes from. This means our boys are at a big disadvantage because in order to go deep in these events, they have to stay up through the night and well into the morning.
The top ten UK online players look like this:
1. stevie444
2. moorman1
3. allinstevie
4. JayPez
5. gregior
6. Himclip85
7. doctor_fun
8. Gezbar
9. xxCelticFCxx
10. clarkatroid
Ed note: Become an online poker star by playing at Full Tilt Poker