What is Your Poker IQ?

Damien Oborne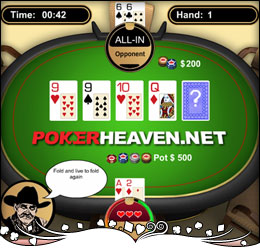 Poker Heaven have launched an interactive Poker IQ test on the current Internet phenomenon "Facebook". The "Poker IQ Test" is the first competition of its kind. Poker fans will be able to test their poker skills against one another. This will prove very popular for players worldwide as they can test whether they are making correct decisions.
Within 48 hours of being released on Facebook the game was downloaded by 1,684 players. This indicates the early popularity of this exciting new concept. Michael Hong, from California, is leading the competition right now with an IQ of 186 (Immeasurable Genius).
There will be three prizes given away monthly by Poker Heaven : €500 will be given to the player with the leading IQ and €250 will go to the person inviting the most amount of friends. There will also be a monthly draw conducted where players can win themselves prizes such as iPODs, plasma TVs, flights and holidays. All you need to do is answer seven hands correctly and you will be qualified.
The best thing about this game is that you will be learning the game. You will learn about calculating pot odds by receiving helpful tips in the early questions. This will definitely help your game as you learn whether of not to fold. Comparing pot odds to your chances of winning is a crucial skill that is taught in this game.
You will be given a selection of scenarios for Heads' Up NL Texas Holdem. The hands will be set up where your opponent has gone "All-In" on the "Turn". You will be able to see your opponent's cards and then choose whether you "call" or "fold". Your answer will need to be correct based on your number of "outs" and the pot odds you are receiving.
Crispin Nieboer, CEO said "As part of our continuing commitment to innovate ahead of the market, we are delighted to offer Facebook users this unique game, to help improve their poker skills, and see where they rank against the best from around the world."
Ed note: Join Poker Heaven for a €500 bonus and test your Poker IQ