Paddy First! at Paddy Power Poker

Damien Oborne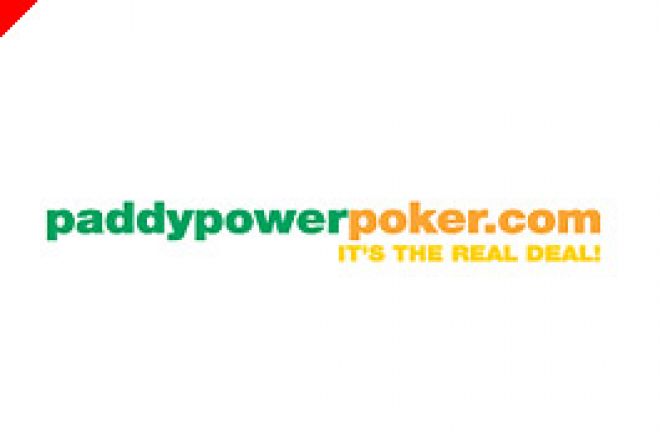 Paddy Power Poker have announced the biggest ever promotion for the Irish Open, "Paddy First". This promotion provides unbelievable value for players that qualify for the Irish Open at PaddyPowerPoker.com. Players will be competing for a possible 5 years free entry to the Irish Open.
If a player that qualifies at PaddyPowerPoker.com manages to win the 2008 Irish Open then they will receive free entry into the Irish Open for the following 5 years. With a current buy-in of €4,500, players are provided with sensational value. Paddy will be providing a consolation prize by giving the highest finishing PaddyPowerPoker.com qualifier with a free entry into the 2009 Irish Open.
The 2008 Irish Open will be bigger than ever! The buy-in has been increased to €4,500. The capacity has also increased to 1,000 after the venue change. This has caused the prize pool to leap to a massive €3 Million Guaranteed. With these sorts of promotions available, Paddy are doing everything in their Power to get the tournament to capacity. With incentives available like that, the Irish Open is definitely one of Europe's premier poker tournaments.
Paddy Power, Communications Manager for Paddy Power Poker, is confident that the prize will be won. "In 2007, Thomas Finneran from Galway outlasted more than 70 online qualifiers to finish 7th out of 708 players. The previous year Sligo man Pat O'Callaghan also came close to the top prize, finishing 14th out of 339."
"Thomas and Pat have blazed a trail and shown that our online players can compete with the very best in the world. My money is most definitely on one of our guys taking home the Terry Rogers trophy this year. As Paddy First we will look forward to welcoming him or her back for the next five years!"
There are already qualifiers taking place at PaddyPowerPoker.com, including daily feeders and fortnightly Grand Final Satellites. The online schedule is -
* Win a Grand Final seat daily at 2pm, 6pm, 9pm & Midnight - buy-in $20 + $2 (rebuy)
* Buy in directly to a Grand Final for $340 + $20 every second Sunday at 9 p.m. (freezeout)
Only players that qualify for the Irish Open through these Grand Final Satellites will be eligible for the Paddy First Competition. If you win through these events then you will be automatically entered into the competition to win the Paddy First Package.
Details for the Irish Open are:

PaddyPowerPoker.com Irish Open
Prizepool: €3 Million Guaranteed
Buy-in: €4,200 + €300
Capacity: 1,000 players
Venue: Citywest Hotel, Leisure & Golf Resort
Dates: March 19th -24th 2008 (Easter weekend)
[I]Ed note: Join Paddy Power Poker and qualify for the Irish Open