Bet on Late Night Poker at PartyBets

Damien Oborne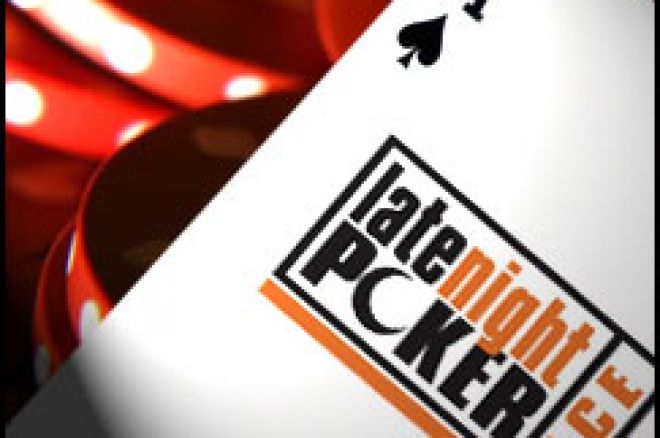 The next series of PartyPoker Late Night Poker is being filmed in Cardiff from the 23rd of October. Some added interest for poker fans comes from PartyBets.com, who are offering odds on the winner of the series. Amongst the early favorites are Andy Black, Roland De Wolfe and Liam Flood. As mentioned earlier this week on UK PokerNews, the event will be televised on Channel 4 in the UK and Ireland early next year before being show internationally.
A PartyBets.com spokesman said: "With so many great players in the line-up it is very hard to make the market and pretty much impossible to make a concrete favourite. Ian Frazer and Liam Flood are amongst the frontrunners because of their previous success in similar formats, while Pascal Perrault is fancied on the basis of form."
"Odds certainly spark debate. We just hope we don't catch a cold with poker betting like we did when a punter made $25,000 by backing Jon Kalmar with $100 to make the final table of the WSOP Main event at odds of 250/1."
Personally I think that Robert Williamson III has a genuine chance to take home the title. This is a great topic for all the readers of UK PokerNews to discuss in our Poker Forum. Tell us who you think will win!
PartyPoker Late Night Poker (1/5 1-2-3)
20/1 Andy Black
20/1 Roland De Wolfe
20/1 Liam Flood
20/1 Ian Frazer
20/1 Anders Henriksson
20/1 Pascal Perrault
20/1 Annette Obrestad
25/1 Praz Bansi
25/1 Joe Beevers
25/1 Jamie Gold
25/1 Jon Kalmar
25/1 SHERIF_RYAN
25/1 VIOLJO
25/1 Sir_Call
25/1 Littlezcam
25/1 Robert Williamson III
25/1 Dave Ulliott
25/1 Simon Trumper
25/1 Jen Mason
25/1 Eddy Scharf
25/1 Rene Mouritsen
25/1 Marcel Luske
25/1 Martin Wendt
25/1 Marc Goodwin
25/1 Barny Boatman
25/1 Dave Colclough
33/1 Jac Arama
33/1 Padraig Parkinson
33/1 SHIVERMETIMBERS
33/1 Offsuit62
33/1 Fishhook_no1
33/1 SandbagNHide
33/1 JayPah
33/1 Immortal1224
33/1 Paul Jackson
33/1 Ram Vaswani
33/1 David Tighe
33/1 Surinder Sunar
33/1 Bo Sehlstedt
33/1 Roy Brindley
33/1 Xuyen Pham
33/1 Donnacha O'Dea
33/1 Maria Demetriou
33/1 Michael Keiner
33/1 Maud Mulder
33/1 Kevin O'Connell
33/1 Korosh
40/1 Agnieszka Rylik
Ed note: You can access PartyBets via your PartyPoker account