Ladbrokes Poker Cruise III Leaving Port Soon!

Damien Oborne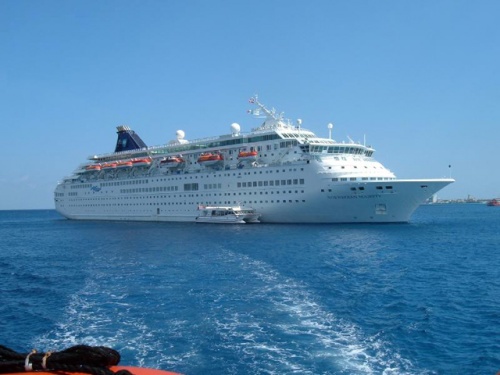 Time is running out to take part in what could be a holiday to remember! On the 25th of January 2008 the Ladbrokes Poker Cruise III departs from the Cape Liberty Cruise Port located on the New York Harbour in Bayonne, New Jersey. This 10 day luxury Carribean Poker Cruise looks set be a great time for all involved. All cabins will have their own balcony and Wi-Fi internet connectivity so you can relax and stay in touch with home at the same time.
The luxury cruise will be visiting the following locations:

* Puerto Rico: San Juan
* St. Thomas: Charlotte Amalie
* Dominican Republic: Casa de Campo
* Labadee (exclusive private beach & watersports paradise).
The ship returns back to Cape Liberty in the early morning on Sunday the 3rd of February.
Players can still qualify for a "Cruise Combo Ticket". Ladbrokes Poker are currently running a $900 + $50 Cruise Weekly Final that is held each Sunday evening at 19:15. You can either buy in to this tournament directly or qualify via $95+$9 Cruise Daily Finals. There is even a Cruise Freeroll being held each evening! (except Saturdays).
The 'Cruise Combo Ticket' is worth $9,000 and includes:

* A guaranteed ocean view balcony cabin for qualifier and guest for the duration of the 10 day cruise.
* Travel allowance for qualifier and guest totalling $1,700.
* Entry into the $2,500 Festival of Poker Main Event.
* Eligibility to participate in the Festival of Poker.
* Ladbrokes Poker schedule of hospitality and entertainment over and above the standard programme offered on board.
* All meals.

As well as a wide variety of cash games and single table tournaments the Cruise will host the Ladbrokes Poker Cruise III – The Festival of Poker. Online qualification is currently available for all of these events.

Main Event: $2,500 NL HE: 10,000 chips, 60 minute levels, Max 400 runners
Side Event 1: $1,000 NL HE: 5,000 chips, 45 minute levels, Max 250 runners
Side Event 2: $500 NL HE: 5,000 chips, 45 minute levels, Max 200 runners
Side Event 3: $300 NL HE: 3,000 chips, 30 minute levels, Max 300 runners
Side Event 4: $300 PL Omaha: 3,000 chips, 1 re-buy, 45 minute levels, Max 300 runners
There will also be a $10,000 ladies freeroll.
Ed note: Play poker in the lap of luxury on The Ladbrokes Poker Cruise III. Join Ladbrokes Poker today