Joseph Mouawad Wins EPT: London

Barry Carter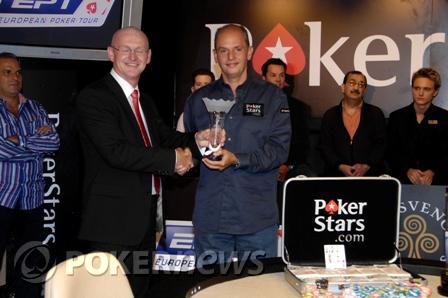 Screenwriter Paul Mendes and professional poker player Ian Cox went to the final table of the London leg of the European Poker Tour with more than just money on their mind. They also had the pressure of trying to continue the trend of UK players keeping the London title in this country. John Shipley, Mark Teltscher and Vicky Coren had all managed a home victory with this trophy, but sadly it was not to be a case of 4th time lucky for the Brits.
Both came to the table relatively short stacked. Cox was arguably the most experienced player at the table with German champion Florian Langmann looking the outright favourite.
The final table looked like this:

Seat 1: Ian Cox, 45, UK – 234,000
Seat 2: Florian Langmann, 24, Germany – 927,000
Seat 3: Anthony Lellouche, 27, France – 466,000
Seat 4: Fredrik Haugen, 19, Sweden, PokerStars cash qualifier - 190,000
Seat 5: Josh Egan, 23, New Zealand, PokerStars double shoot-out qualifier - 477,000
Seat 6: Marcel Baran, 28, Germany, PokerStars cash qualifier – 583,000
Seat 7: Paul Mendes, 44, UK - 282,000
Seat 8: Joseph Mouawad, Lebanon, PokerStars cash qualifier - 780,000
In fact any UK hopes were very quickly dashed when Cox and Mendes bust out in 8th and 7th spot respectively. Both men forced to make moves with king high on account of the escalating blind structures. This set the scene for what was to be the fastest final table in EPT history. Cynics may argue the fast action may have been on account of four Pokerstars online qualifiers remaining at the table. This was to be the most prolific EPT ever for the Pokerstars qualifiers. Nine qualifiers cashed in this event and between them won £1,184,307, more than half the prize pool.
The next man to go was Anthony Lellouche of France, who was caught stealing when he put all his chips in the middle with seven high, only to be called by Marcel Baran holding a dominating pocket sevens. 2006 Caribbean Poker Classic champion Frederik Haugen was soon joining him, this time falling foul of a steal attempt when his Ace-Jack was outdrawn by Florian Langmann's Queen-Ten.
New Zealander Josh Egan made a move with King Jack and was quickly called by Joseph Mouawad holding the deadly bullets. The three handed action lasted no time at all when Baran did not have enough chips for Langmann to pass his King-Seven against Baran's pocket fours. A king on the flop set up an evenly matched (chip wise) final between Langmann and Mouawad:

Joseph Moauwad — 2,162,000
Florian Langmann — 1,880,000
Heads up lasted under an hour before and on a flop of



all the money went into the middle of the table. Moauwad held


for top pair and Langmann was dealt


for middle pair. A queen fell down on the turn to leave Langmann drawing dead and Moauwad was the champion.
Joseph Mouawad is the first Lebanese player to cash in an EPT event, let alone win one. He amazingly nearly cancelled his trip out here because his travelling companion was unable to make the event. The 47 year old property developer has been playing poker for 15 years but only recently took up Hold'em when it was introduced at his local casino.
A total of 392 players competed in this event to make a £2,038,400 prize pool. The final table paid out thusly:

1. (£611,520) - Joseph Mouawad
2. (£346,528) - Florian Langmann
3. (£203,840) - Marcel Baran
4. (£152,880) - Josh Egan
5. (£124,342) - Fredrik Haugen
6. (£97,843) - Anthony Lellouche
7. (£77,459) - Paul Mendes
8. (£57,075) - Ian Cox
Ed note: Join Pokerstars and start qualifying for European Poker Tour events today!