UK PokerNews Exclusive: Interview with Australian Poker Legend Gary Benson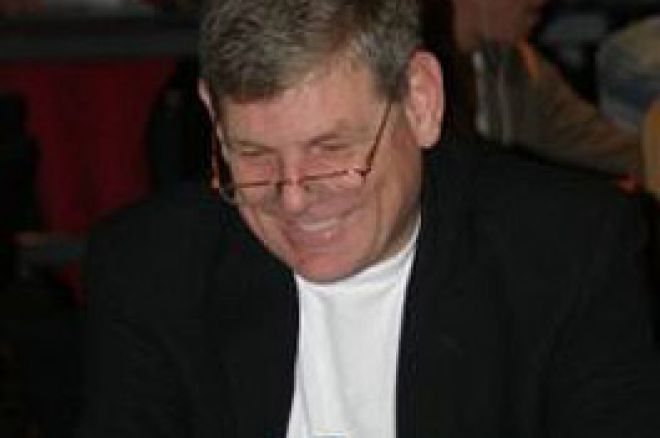 Today I was lucky enough to spend some time watching some of the biggest names in Australian poker battle it out in a high stakes cash game. Seated at the table were bracelet winners Gary Benson, Jeff Lisandro and Mark Vos. Also playing were well known players Emad Tahtouh, Billy the Croc and Sam Khouiss. I was thrilled when Gary Benson offered some time away from "The Aussie Big Game" to spend with me on behalf of UK PokerNews.
Firstly Gary, I'd like to say thank you from taking time out from the game to have a few words.
No worries at all Damien.
As the winner of the PokerNews Australian Bad Boys of Poker Event, are you really that bad?
(Laughs) I don't think so; I think it might be a little bit of the tall poppy syndrome coming out. It also might have something to do with wearing black whenever I play, or maybe because I've been quite outspoken in the past on issues in poker. But no, I'm not that bad.
To win an event featuring so many high profile players was a great achievement. Is there any hand that stands out for you as crucial in how the event unfolded for you?
The hand that counts was the winning hand. Although I was in with the best hand, it was great to hold on. With a flop of 10 2 2, it could have been Emad that hit his 5, as it was I hit my Ace on the turn and won the event. If Emad hits on the turn he probably wins the tournament.
Can you please tell our UK readers about your first playing experience and how you got involved in poker.
I was taught different games of poker by my grandma firstly. I was 5 yrs old and grandma would teach me all different types of games, poker was one of those, it was a high stakes battle for matchsticks. I also used to play for lunch money at high school which is a fun memory. The winner ate well and the rest of us went hungry, but it was really enjoyable.
Another fond memory is one of my first bad beats. I was playing a cash game of Manila as a 17yo and had hit four of a kind. I thought I was unbeatable until my opponent won the hand with his straight flush. I lost $17 on the hand, which at the time was a decent amount for me to lose.
You have played poker in card rooms around the world. When it comes to the Crown Poker room, which is the home of the PokerNews Cup and Aussie Millions Event, how does it compare to rooms around the world?
The atmosphere and the people are fantastic. The dealers are of a high standard and I love playing at Crown. The one thing that would make the card room better though is a higher range of games and more tables with bigger limits. It's hard for me to get a high stakes game at times. That doesn't seem to be a problem though at Aussie Millions time.
Have you had any big results in the UK?
I have never really played much in the UK. I played for a little while at "The Vic" in London, but I spent more time at the blackjack tables whilst in England.
Poker is so popular these days with the internet and television boom. You had a lot of great results prior to this, though. Was there any player that you based your game on initially?
I'm a bit of a self made man, but I have always tried to pick up bits and pieces from different players. I enjoyed being able to watch and learn when Amarillo Slim ventured out to Australia. I also watched a lot of Dan Harrington whilst in America, Dan is someone that I have a lot of respect for as a player.
Another place where I could hone my game was at the home game we ran from 1990-2000 in Sydney. Amongst the players were Lisandro, Jason Gray and Sam Khouiss. Mel Judah and Billy the Croc also flew in occasionally, so it was a very tough school.
You were the first Australian to win a WSOP bracelet. Tell us about the experience.
It was my very first trip to the WSOP. I still remember landing at the airport and being like a kid in a lolly shop. I got off the plane and was awake for 3 straight days before the Seven Card Stud event started. I was extremely tired until the adrenalin kicked in late in the tournament. I felt like I played flawless poker and it was enough for me to win the bracelet. The event lasted 17hrs to get heads up and then another 2hrs after we got to heads up! The funny thing is I finished the event and still took 6hrs to get to sleep, I was so hyped up with all the adrenalin flowing.
In an interview with Australian poker icon Maurie Pears, you discussed one of your big interests, genealogy. How did your interest in this come about?
My first daughter was about to be born and I asked my father about the history of my family and our family tree. It is something that snowballed from there; dad and I spent a lot of time working on the history of my family. Every time I go to the WSOP I make a trip out to Utah. The Mormon's have the largest collection on family history in the world with all the registries dating back to year one. Its extremely interesting and worth having a look at.
You help out hundreds of online players with your famous cashing out service. How did that start and what gave you the idea?
I had a bit of spare money online 3yrs ago and was helping some friends out with transfers. It has gotten a lot bigger since then with a lot of Australians using the service. I approached PokerStars about doing it formally and they were keen to get behind the idea. I now have over 1000 players around the world that use my service, including some UK players.
I take it we will be seeing you back at Crown for the Aussie Millions?
100% guaranteed! No doubt at all.
Thank you for your time Gary. My last question is what advice do you have for our UK PokerNews readers that are planning a trip Downunder for the Aussie Millions?
First thing is to avoid currency exchange rates if possible. If you have US dollars that you want to exchange for Aussie Dollars you can use my service and the cash will be waiting at Crown Casino when you arrive. That will save you cashing out US dollars to Pounds and then Pounds to Aussie dollars. The same goes if you manage a win. I can give you Pounds to take back to England without the currency exchange!
I also think you need to spend some time sightseeing if you come out. I advise heading north and seeing some of the beautiful places Australia has to offer and remember to bring summer clothes! The Australian Open tennis will also be on, so I also recommend having a look at that.
My most important piece of advice, though, is to enjoy the Aussie beer and women!
Thanks Gary, I look forward to meeting you heads up at the Aussie Millions Main Event.
No worries, Damien, that would be great!
Ed note: Become an online poker legend at MANSION Poker