WSOP Europe - HORSE: Day One

Barry Carter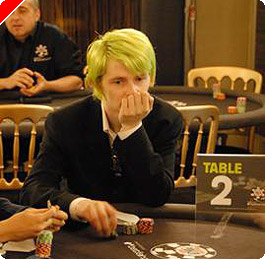 The maiden voyage of the World Series of Poker Europe began, as most of these things do, with a knees up. On Wednesday night we were treated to a VIP party which included a free bar, a charity tournament and a slightly miffed racing pundit.
The two table celebrity tournament, Antes Up for Africa, was a two table £500 event with all the proceeds going to the Darfur anti genocide charity. Unfortunately nobody told John McCririck that the players had to stump up the £500 themselves and he promptly left in a huff with his wife 'Booby'.
Thankfully the likes of Tony G, Devilfish, Howard Lederer and Chris Ferguson were still on hand to play in the event, as our resident MC, Phil Hellmuth provided commentary. Therefore it wasn't long that the event essentially turned into The Phil Hellmuth Show in a scene reminiscent of a small child finding their way to the DJ booth of a wedding reception and showing off to his mates – it was all in good fun though.
105 players fought off a hangover to make it to the £2500 HORSE event, well 103, Barry Greenstein and Joe Sebok never made it to the event despite having bought in earlier, they probably went on a Father-Son trip to see Big Ben and the Beefeaters.
One Father and Son team that did make the event (despite significant jetlag) were Doyle and Todd Brunson. They were joined by Big Game buddies Jennifer Harman, Gus Hansen, Patrik Antonius and Eli Elezra. As expected the event really was a whose who in world poker, other names included Marcel Luske, Tony G, Justin Bonomo, Jimmy Fricke and John Juanda.
Mixed limit events like this are always very slow affairs, no early bustouts or monster chip stacks to report. That didn't stop Marcel Luske managing to bust out early in the first hour and the UKs Richard Ashby doubling his stack in an impressive display straight from the dealers choice games. Other early casualties included Tony G, Andy Black and Dave Colclough.
The format was slightly different in this HORSE event to the mirroring events in Vegas, here 8 hands of each game was played before moving onto the next. Therefore one table could be playing hold'em, another playing Omaha and another playing Razz all at the same time. Add to this the fact that the dealers were relatively new to HORSE and UK rulings being slightly different to US, so it made for a confusing affair at times, a few busy floor managers but ultimately it went very very well with no major controversy.
54 players make it to day 2 with a star studded line up remaining, we will almost definitely see a big name final table in this and the other two events. The UK is still going strong with Gary 'The Choirboy' Jones (Sporting a fetching new green barnet) and Marc Goodwin right up there with the chip leaders. Regrettably Richard Ashby fell by the wayside towards the end of the day but Joe Beevers, Barny Boatman and JJ Hazan all still in the mix.
The chip leaders look like this:
Kirk Morrison – 55,900
Jan Sorensen – 50,100
Gary Jones – 41,900
Jennifer Harman – 38,100
Pascal Perrault – 35,200
Alex Kravchenko – 33,600
Scott Fischman – 33,200
Marc Goodwin – 32,000
Yuval Bronshtein – 31,100
John Juanda – 30,900
We are playing down to a final table today and our live coverage resumes at 2pm. UK Pokernews have the exclusive chip counting rights to this event so there is no better place to go than our WSOPE Live Updates for all the action.