3 Brits, 1 American and 5 Scandies at the WSOPE Final Table

Barry Carter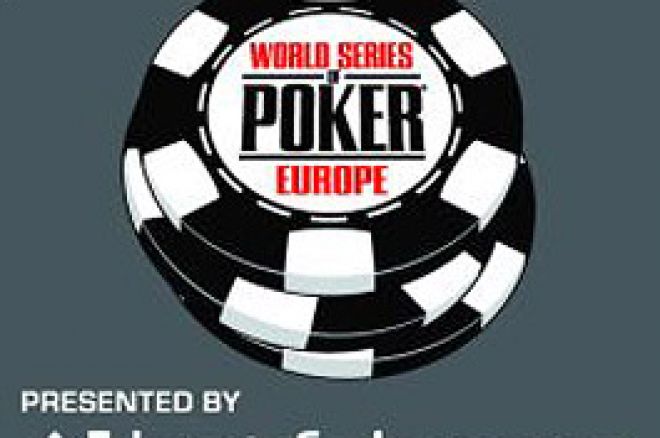 362 players paid £10,000 to play in the inaugural World Series of Poker Europe and we are left with just 9, battling it out for £1 Million and the coveted bracelet. Amongst them there are 3 Brits, 5 Scandinavians and 1 American at the table, as well as one very high profile bubble boy they will be glad wont be returning today.
Gus Hansen was the last player to bust last night in 10th place when his Queens ran into the very solid Matthew McCulloughs Kings Gus amassed the chip lead early on day 2 and looked a dead cert to make the final table thereafter, though he was never really able to capitalise on his big stack the way he has in the past.
This was in part due to the excellent play of London's John Tabatabai, who was his Nemesis yesterday, fearlessly entering pots with Gus and taking them away from him, often with nothing. Most of us thought that with Gus and Tabatabai next to each other, one would take the other out, but it never happened.
Also at the table is young James Keys. He qualified for this event for $80 and has already guaranteed himself £60,000. Keys is actually a student and we were all amazed that he tends to play $0.25/0.50 online – to watch him play he looks beyond his years and he has brought with him a rowdy fan club that must have helped his confidence all the way to the final.
The final Brit is Dominic Keys, a young talkative Londoner who is known by many on the London circuit. He was a bit of a chip monster throughout this tournament and he is in good shape to amass more at todays final.
The experience at the table is clearly in the two very different forms of Annette Obrestad and Theo Jorgenson. Annette has impressed everyone who have witnessed her playing live and Jorgenson has clinically gone about his business as he always does.
The final table looks like this:
Seat 1: Johannes Korsar (Uppsala, Sweden) - 1,134,000
Seat 2: Oyvind Riisem (Bergen, Norway) - 664,000
Seat 3: John Tabatabai (London, UK) - 982,000
Seat 4: Annette "Annette_15" Obrestad (Sandnes, Norway) - 697,000
Seat 5: Dominic Kay (London, UK) - 490,000
Seat 6: Matthew McCullough (Cherry Hill, NJ, USA) - 1,278,000
Seat 7: Theo Jorgensen (Copenhagen, Denmark) - 605,000
Seat 8: Magnus Persson (Gothenburg, Sweden) - 1,231,000
Seat 9: James Keys (Bury St. Edmunds, UK) - 172,000
We will be doing hand for hand updates as they happen from 2pm today, so stay right here at Pokernews for our exclusive WSOPE Live Updates.