Cash Madness at WSOP Europe and Sex Sells

Catman - The Poker Agent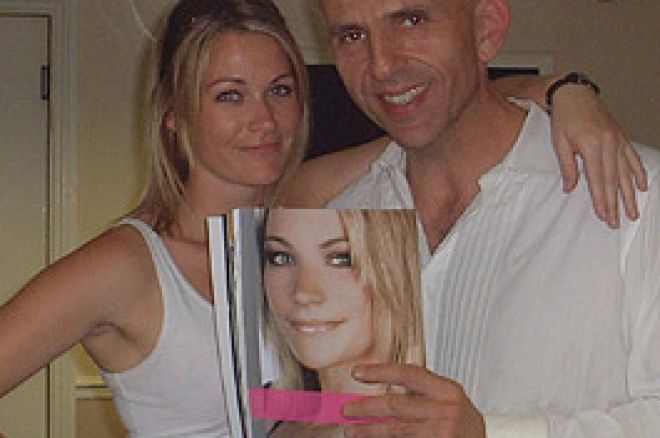 Call me crazy, but it feels as if Christmas and New Year have all come at once. Phil Hellmuth can be seen knocking seven bells out of Mike the Mouth on YouTube with his 72 off vs Mikey's kings on my favourite show, High Stakes Poker Season 4. It is beyond imagination and one thing we know for sure, it cannot be cold decked.
This month I managed to get my good looking mug out there on the scene a little, and what a scene. Everyone but the garden gnome seems to be pulling the stops out, including The Vic. I managed to get a little tête-à-tête with the inner sanctum of The Vic, Graham Friel the manager, Jeff Leigh the card room manager and Russell Tamplin, Poker Manager of Rank's Grosvenor Casinos, and let me tell you, they are not a bad bunch at all.
Having had a beautiful girlfriend over the last year or so has literally kept me out of The Vic, the £2 million refit has provided a fairly sensational transformation. Of course the highlight for me was having a fag with my great friend, Joe "we are here to gamble" Grech. The smoking room is lined with trees, heating and TV's and is really a fantastic addition to the old casino, and the card room ain't half bad either. For when the Yanks' invasion is coming next week for Harrah's WSOP Europe (sponsored by Betfair), London will host a mega cash game marathon. London Clubs will be mobbed and the games will cross from The Vic to some very high stakes at The Fifty. Correct me if I am wrong, but a whisperer informed me that there is often a million plus game that happens more than regularly at Fifty, or was it The Sportsman? Either way, I want in it; any backers?
The very sad news is that when our Yank friends, the mighty pros of the world's biggest games, do venture off to The Vic, they will not experience that sinking feeling that any newbie would have experienced a year back. When the beady piranha eyes of the regulars would penetrate their souls, even Mike Tyson would quiver as though he was up for lunch. Alas, the room is so big and friendly now that you can enter without any fear, that is until you sit down of course.
September will be a monster month for poker; apparently there are a few big qualifiers left on Betfair and I believe there are five guaranteed seats up for grabs this Sunday.
I managed to pop down to Grosvenor's G Casino in Luton last Friday for a 75 squidder and, blow me down, that is something else too. Leather chairs for poker players! Is the world going soft? The game was on the eve of Tony Kendall's fantastic APAT poker event so it was especially busy. I meandered to the last three tables when Danny Samson reminded me that a gay raise would always be called by the big blind and not treated as a powerful hand. Danny was correct and he floated the flop with a big handful of chips and gave me a good slapping. Poker is certainly a game of no mistakes and I had just played like a plonker and was punished accordingly.
I have also heard that that Simon Young (ex-The Sun) has just joined Party Poker after having toured the world with Pokerstars. It doesn't surprise me that a man with his experience has been snapped up and I wish him the best.
The poker industry is moving so fast and one of the shakers and movers that has come from nowhere is Purple Lounge, a partner of Quintessentially, the highbrow concierge service. Aaron Simpson, a great mate of mine, and Chris Gorman have created a mini monster that has come up with some very creative formulae for success. Much of it I dare say stemmed from attacking the Scandinavian market with a group of the sexiest dealers ever, the FHM girls. Never forget, sex sells - or so I have been told!
Behind this force is a very creative team led by marketeer Julia, Diana the sensational PR, and Matt. I went to meet them at the final of Purple Lounge's "Battle of the Sexes" event, held at The Western Club in London. Although a partner of Quintessentially, they have realised that nothing is more important than grass roots and looking after the players. The event was fun, but I am still thinking of suing Aaron. I told "her indoors" it would be a glam champagne reception at Quintessentially's stunning Soho offices. Instead, I got bloomin' pizza! Unreal. However, that small problem was easily overcome after their poker manager, the stunning Michelle Orpe (ex PokerZone), gave me a great hug for the picture you see here, I made it last of course.
WSOP-E kicks off on 6th September with a press conference featuring Phil Hellmuth and The Devilfish facing off, Tyson style, in the cinema next door, I kid you not. Pokernews.com will be offering exclusive live coverage and updates. I will only tell you one more time, even if Betfair, LCI and Harrah's do get brassed off, to come down and railbird. This is going to be the opportunity of a lifetime and an historic event. I am betting on around the 350 mark for the main event but of course, of more importance, I do strongly believe I will be playing The H.O.R.S.E.
Roll on September!
Ed note: Qualify for the first PokerNews Cup for free. Check out our Freeroll Tournaments pages for details on how you can win a $5000 package.