PokerProForAYear Series 5 – Qualify Now for a $12,500 Aussie Millions Freeroll!

Paul Sandells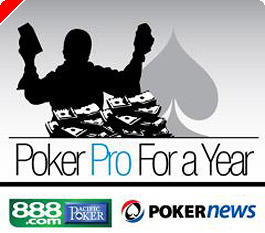 PokerProForAYear Series 5 is already firing on all cylinders with rounds 1 through 5 already completed. Don't worry, there is a whole lot more action to look forward to including a huge $12,500 Aussie Millions Freeroll, commencing Saturday September 29 at 16:00 EST.
The Aussie Millions is the largest poker event down under and with PokerProForAYear you could be heading south to the land of kangaroos, kylie and annoyingly good sports teams. PPFAY have an awesome $12,500 freeroll tournament included in the remaining three rounds of Series 5. Now is the time to get involved!
The Series 5 $12,500 Aussie Millions Global Freeroll will take place on Saturday September 29 at 16:00 EST. That's $12,500 for free! The freeroll winner will walk away with a $10,500 Aussie Millions buy-in plus the additional cash to help to get you to Australia.
To qualify for this exciting freeroll, players must download Pacific Poker through UK PokerNews, register a new account and make a minimum $50 deposit. Next is the important part. Players must then accumulate 200 Pacific Poker Points before Monday September 24 to qualify.
PPFAY players can look forward to an enormous 2000 league points just for participating in this event with an epic 12,000 points on offer for the outright winner of the freeroll.
Fast approaching this weekend is Series 5, Round 6. That begins with another $10+$1 tournament. The winner will walk away with 500 League points and a nice cash prize. There will also be 80 points awarded for participation. It's still not too late to make an impact on the PPFAY league!
The Aussies might be too good at cricket, but let's not give them the bragging rights at poker too! Join up to PPFAY today and win your seat to the Aussie Millions.
Ed Note: Sign up to Pacific Poker now and UK PokerNews players will receive an exclusive 60% first deposit bonus up to $100.